Collegiate Discussion Meet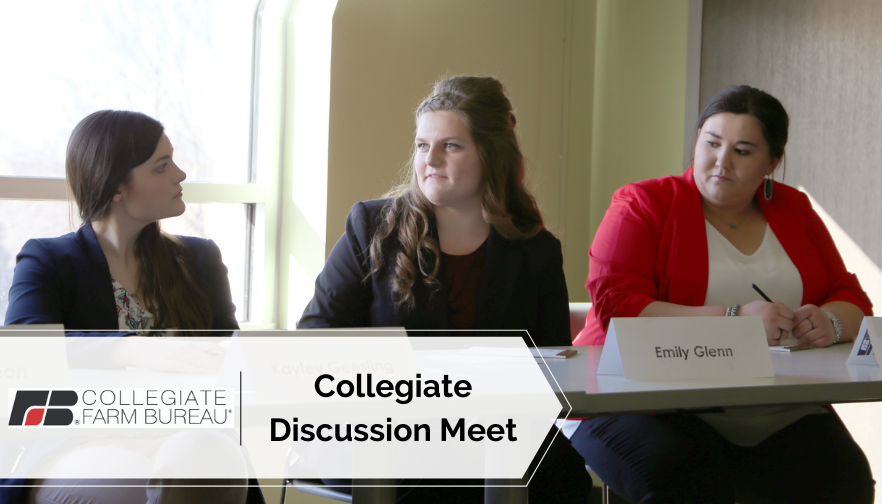 The Collegiate Discussion Meet challenges Collegiate Farm Bureau members to analyze agricultural issues and decide on solutions that best meet the needs of the industry. The competition is designed to simulate a committee meeting where discussion and active participation are expected from each participant. Contestants build basic discussion skills, develop a keen understanding of agricultural issues and explore how groups can pool knowledge to reach consensus and solve problems through discussion of pre-selected topics.
Collegiate Discussion Meet Resources:
Participant Criteria:
Must be a Collegiate Farm Bureau member in Kansas between the ages of 18 and 35.  The individual will not have reached his/her 36th birthday by the last day of February 2024.
Must be an undergraduate college student in Kansas.
Must display a sincere interest in the agriculture industry.
Professional speakers are not eligible (receive a fee, royalty or honorarium for speaking).
Past and present AFBF CDM/DM competitors, AFBF YF&R committee members, past KS YF&R CDM/DM winners and current employees of county, state and/or American Farm Bureaus and their affiliates are not eligible to compete.
Winner will advance to 2024 AFBF Collegiate Discussion Meet held in Omaha, Nebraska. The Kansas representative must be an active member of a Collegiate Farm Bureau chapter in Kansas at the time of the national competition.
Prizes:
First Place - $500 + expense paid trip to compete in the national contest at the 2024 AFBF YF&R Leadership Conference (Omaha)
Second Place - $300
Third Place - $200
Fourth Place - $100 
Entry Form Deadline: January 14, 2024
Competition Date: 2024 YF&R Conference
Enter here for the Collegiate Discussion Meet
Make sure you also register for the 2024 YF&R Leaders Conference! 
For questions, email yfr@kfb.org.