Excellence in Agriculture Award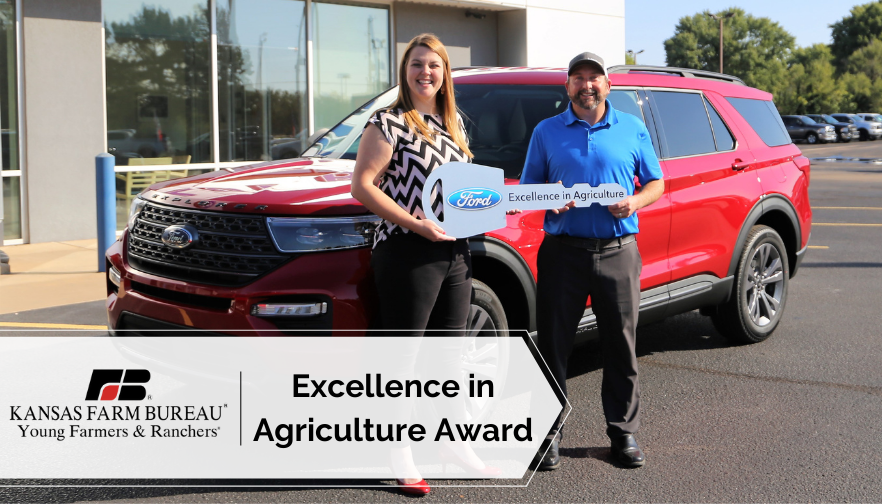 The Kansas Farm Bureau Excellence in Agriculture Award Program is designed to recognize Young Farmers & Ranchers who actively contribute and grow through their involvement in Farm Bureau and agriculture. Participants will be judged on their involvement in agriculture, leadership ability, involvement/participation in Farm Bureau and other organizations.
Prizes:
First Place - $500 + All Expense paid trip ($2,000 value) to compete in the national contest at

2025 AFBF Annual Convention in San Antonio, Texas

Second Place - $300
Third Place - $200
Fourth Place - $100
Award Process:
Prepare your application questions prior to submitting application online
Submit your application online 

via jotform (below) by January 14, 2024

Prepare your presentation (15 minutes in length)

Attend the competition orientation at the Kansas YF&R Leadership Conference in Manhattan

Present at the Kansas YF&R Leadership Conference on Saturday, February 3 in front of 3 judges

Awards announced on Sunday, February 4 at the closing general session

State winner advances and competes at 2025 AFBF Annual Convention in San Antonio, Texas.
Award Criteria:
An applicant can be either an individual or a couple that is married or has similar legal rights under the law applicable to the state Farm Bureau organization. Applicants may choose to apply individually, rather than as a couple.
Applicant(s) shall be a Farm Bureau member(s) between the ages of 18 and 35 in good standing with his/her county Farm Bureau. The individual or spouse/spousal-equivalent shall have reached his/her 18th birthday at the time he/she qualifies for the national competition and shall not have reached his/her 36th birthday by the completion of the competition. Competitors qualify at the time the national application is submitted and the completion of the competition is the day awards are given out (Monday, January 27, 2025). Applicant(s) must not have derived a majority of his/her gross income from an owned production agriculture enterprise in any of the past three years.
Applicant(s) may only compete in one state YF&R Competition per year.
Past and present members of the AFBF Young Farmers & Ranchers Committee and/or their spouse, and present members of the Kansas YF&R Committee are not eligible to compete. 
Past state YF&R of the Year winners and/or previous AFBF Achievement Award competitors are not eligible to compete.
Previous Excellence in Agriculture Award competitors are eligible to compete as long as they have not won.
Current employees or agents of county, state and/or the American Farm Bureau organizations and their affiliates are not eligible to compete. An affiliate is defined as an entity owned or controlled in whole or in part by another entity through, for example, ownership (including partial ownership) or positions on the board of directors.  Past employees who were responsible for implementing any of the YF&R Competitive Events at the state or national level are ineligible.


Presentation Guidelines:
The presentation will be an interactive, 15-minute presentation in which the applicant(s) has an opportunity to share the contents of his/her/their entire application in narrative form with a panel of three judges and the audience. 

Applicant(s) will have 15 minutes to present on the topics addressed in the application and address questions from the judges. Applicants will be notified by the timekeeper when 10 minutes are remaining and again when five minutes are remaining. Each judge will be prepared to ask at least one question. At 15 minutes, time will be called and the applicant's time in front of the judges will conclude even if judges have not been able to ask their questions.  It will be up to the applicant(s) to determine how they use this time. If the answers to the judges' questions are complete before time is called, the room moderator will call time. 

The only visual means in which to deliver the information is through a PowerPoint presentation. The applicant(s) needs to submit their presentation on a USB flash drive during the Excellence in Agriculture Competitor Orientation. Once the presentation has been downloaded onto the laptop, it cannot be changed. A computer, LCD projector, screen and one slide advancer remote will be provided. All presentations must be formatted to work on a PC.  Contestants will not be allowed to use their own computer.
Verbal and presentation references to applicant(s) name, state and county will be allowed during the presentation.
No props (including notes), sound or video of any kind will be allowed during the presentation.
Applicants and their state coordinators are not allowed to view other presentations until after they have completed their own.
Application Deadline: January 14, 2024
Presentation Date for Finalists: Saturday, February 3
Make sure you also register for the 2024 YF&R Leaders Conference! 
Resources: 
For questions, email yfr@kfb.org.