Young Farmers & Ranchers Discussion Meet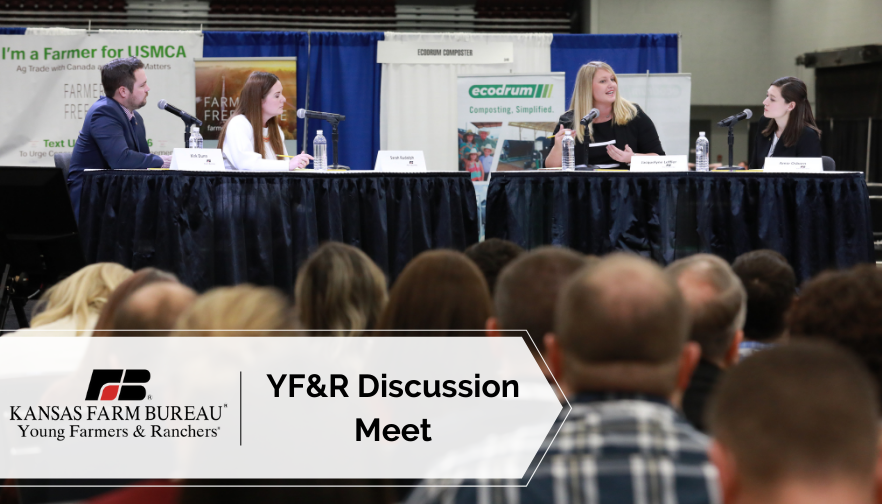 The YF&R Discussion Meet challenges young Farm Bureau members to analyze agricultural issues and consider solutions that best meet the needs of the industry. The competition is designed to simulate a committee meeting where discussion and active participation are expected from each participant. Contestants build basic discussion skills, develop a keen understanding of agricultural issues and explore how groups can pool knowledge to reach consensus and solve problems through discussion of pre-selected topics.
Discussion Meet Resources:
Participant Criteria:
Must be a Farm Bureau member in Kansas between the ages of 18 and 35.  The individual will not have reached his/her 36th birthday by January 31, 2025.
Must be a member in good standing with their county Farm Bureau
Must be actively engaged in agriculture
Professional speakers are not eligible (receive a fee, royalty or honorarium for speaking)
Past and present AFBF DM competitors, AFBF YF&R committee members, past KS YF&R DM winners and current employees of county, state and/or American Farm Bureaus and their affiliates are not eligible to compete.
Winner will advance to 2025 AFBF Discussion Meet competition. 
Prizes:
First Place - $500 + expense paid trip to compete in the national contest at the 2025 AFBF Annual Convention in San Antonio, Texas.
Second Place - $300
Third Place - $200
Fourth Place - $100 
Enter here for the YF&R Discussion Meet
Entry Form Deadline: January 14, 2024
Make sure you also register for the 2024 YF&R Leaders Conference! 
For questions, email yfr@kfb.org.