Allen County family named Farm Family of the Year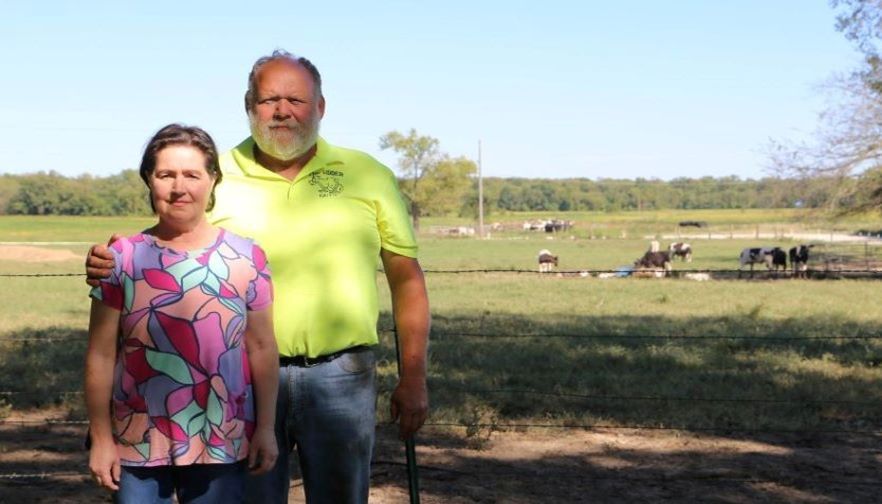 Harry and Kathleen Clubine, Allen County, are one of Kansas Farm Bureau's (KFB) Farm Family of the Year honorees.
Each year, a select number of families receive the Farm Family of the Year award for their service and leadership in agriculture, Farm Bureau and their communities. This year there were 10 families. 
Harry has been employed by Strickler Holstein Farm for 35 years and worked up to farm manager in 1995. Harry has been heavily involved in the dairy industry for most of his life and grew up on a dairy farm with 80 registered Holstein cows in Montgomery County. Strickler Holstein Farm milks 400 cows and raises 600 head of young stock, in addition to marketing several hundred head of Holstein bulls each year. Harry manages 330 acres of grass, purchases feed for the dairy, oversees 10 employees and manages the daily operations.
Harry and Kathleen are active members of the Light of LaHarpe Baptist Church, and Harry is a Kansas Holstein Association board member, Iola Farm-City Days committee member and active in Iola Rotary Club's recycling program. Harry has served on the Allen County Farm Bureau board for seven years and was president for four years. The Allen County Farm Bureau has hosted Ag in the Classroom activities and virtual tours for thousands of elementary students. Harry has represented KFB's third district on the state's Dairy Ag Advisory Committee and has attended KFB's Day at the Statehouse five times.
The Clubine family takes pride in being Farm Bureau members and for what Farm Bureau stands for, especially when it comes to sharing agriculture's story with their urban family members and consumers.