Dealing with Disaster: Travis McCarty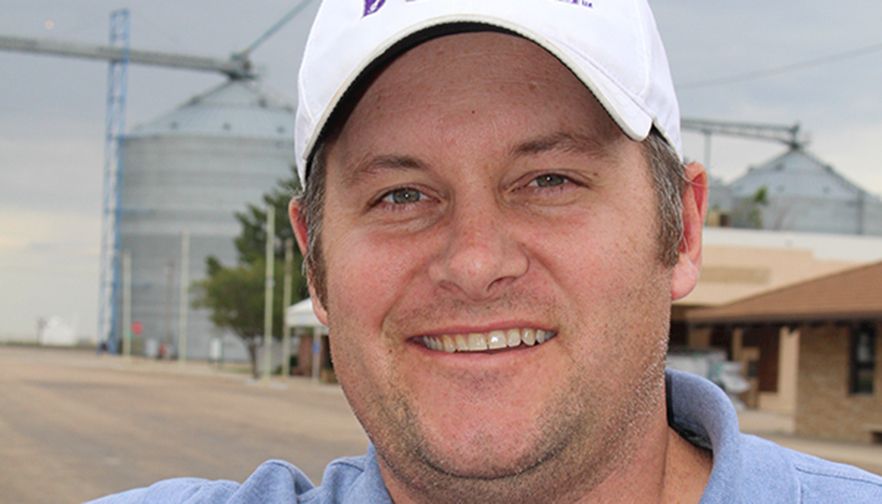 Travis McCarty's story is the third and final in KFB's "Dealing with Disaster" series created by veteran farm journalist John Schlageck.The series features Kansas farmers and ranchers and their ability to rise above devastating disasters including the state's largest wildfire, an April blizzard and its impact on this year's wheat crop.
Talk about a world turned topsy-turvy. That's what happened March 6 in Clark County.
On that fateful day, wildfires exploded across Kansas, Colorado, Oklahoma and Texas and swept through an estimated 1.5 million acres. A couple days after the fire burnt out, some said the charred remains looked like Mars—desolate and barren.
For Travis McCarty, this day will remain forever etched in his memory. The experience scorched his soul.
He watched as 76 mile-per-hour winds fueled grass fires that destroyed more than 461,000 acres in Clark County where his family has farmed and ranched for four generations.
Dozens of farm and ranch families lost their homes, out buildings and livestock. Countless wildlife fell prey to the fiery devastation including dead and severely injured coyotes, deer and jackrabbits.
A large-animal vet by trade, McCarty was consulting at a feedlot near Montezuma that day when his phone rang.
"Dad called to say he really needed me," McCarty says. "He told me he was headed toward a neighbor with his tractor and disk to save his home from fire."
Seeing the billowing smoke about 65 miles to the southeast, McCarty jumped in his pickup and sped toward Ashland. That's when the chaos began.
Trying to reach the Sand Creek Ranch pasture, he turned around because he couldn't make it due to the fire and smoke. Instead, he rendezvoused with his wife and father-in-law. They headed for his parent's place to move some first-calf heifer pairs into a safe place.
As they hurried to save the cattle, the fire swept closer. Little more than a mile away, McCarty says he could feel the heat like a blowtorch on the back of his neck.
"It was the biggest fire I'd ever seen and covered the sky," he recalls. "It scared me to death as it raced toward us."
Realizing the imminent danger, they abandoned their rescue mission and headed for the Ashland-Englewood junction away from the fire's path. Several minutes later the wind shifted and McCarty thought it safe to return to his parents' home.
As he pulled into the driveway, he saw the fire had burned within a few feet of the house. It remained intact.
"Only God knows why that house is still standing," McCarty says. "You do funny things when you're in a situation so out of control. I grabbed the little water reservoir out of my vet box in the pickup and started spraying any fire or hot spots I could see. When I think back, it was comical but I had to try anything to help."
Like so many of their neighbors, the McCartys lost livestock and miles of fencing. Twenty-eight head of his 60-head breeding stock females died in the wildfire. Half of his dad's 340-head cow herd perished.
"We're going to grind it out like my grandfather and his father did during the Great Depression and the Dust Bowl days," McCarty says. "I'm sure they experienced similar feelings we have. It's stressful and it's aged us all."
Their surviving cows and calves remain in temporary pastures. Stock mob graze weedy areas enclosed by electric fence. Sometimes the bust out and free range like the days before Joseph McCoy forever changed the open-country, cattle grazing in Kansas.
The McCartys plan to finish rebuilding fence by the end of 2017. Generous donations from throughout the country have provided them with approximately 25 percent of the fencing materials needed to rebuild.
So far, they've cleared almost 95 percent of the burnt posts and barbed wire from the cross fencing and perimeter fencing surrounding their pastures. They've rebuilt less than 10 percent.
"We'll probably be in this rebuilding mode for years," McCarty says. "We take each day one at a time. Nothing is normal anymore."
Yes, every day is different. New challenges, small triumphs, setbacks and baby steps forward, he says. With every passing day McCarty feels a little stronger.
Looking back on March 7, the fires still burned. Father and son cried together about their losses – the carnage of dead cows and calves seemed too much to bear.
"That was the bottom for us," McCarty recalls. "Thinking what in the world are we going to do."
Then his phone rang.
People calling – asking to help.
The fires still smoldered. The McCartys didn't know what needed to be done. They hadn't even had time to assess the fire's consequences.
Farmers and cattlemen like the McCartys remain a fiercely independent lot. Self-reliant. If something – anything – needs done. They will fix it. They will handle it themselves. Thank you very much.
"Most of us are people who usually don't ask for help," McCarty says softly. "But now, we had to learn to say, 'yes.'"
The outpouring of those wanting to help has been overwhelming. Friends helping friends. Neighbors helping neighbors. Everyone in the community and from across the country pitching in.
McCarty talks about a 19-year-old young man who traveled from Michigan four times to help. He's brought fencing supplies, clothing, organized hay delivery and worked a week of his vacation rebuilding fence.
"This spirit keeps you going," he says. "While we've suffered a huge financial blow – it's just money."
McCarty hopes to one day pay this generosity forward. He recently dropped everything to assist in another community devastated by hail and a tornado.
"I can't tell you if I'd have done that a year ago," he says. "But after experiencing the fire you just go."
The fire of 2017 changed the lives of those who live in Clark County forever.
All know the feeling of watching the sky turn black, the arid smell, seeing the smoke blanket the landscape and wondering why?
Most will say they rose to the challenge, met it head-on and are better people for doing so. This kind of spirit and selflessness will allow this region of Kansas to recover. A community of kindred spirits moving forward.Two months after the fire, the Clark County cattlemen continue to rebuild and pick up the pieces of their broken lives. They take each day one at a time. Nothing is normal anymore. Their goal – move forward.
HIGH-RESOLUTION PHOTOS AVAILABLE FOR DOWNLOAD
High-resolution photo of Travis McCarty
High-resolution photo of Travis McCarty and family
High-resolution photo of new fence