Food, farming and fun found at Lawrence Zest & Zing event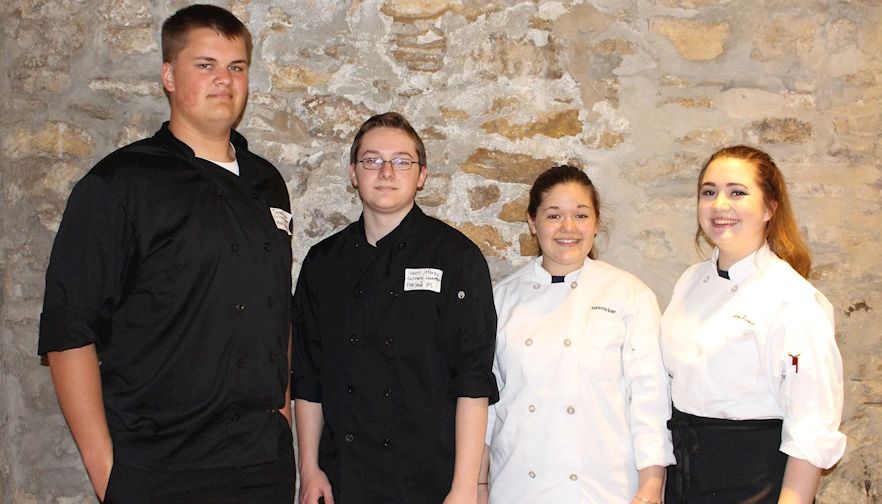 CONTACT:
Meagan Cramer
(785) 587-6821
cramerm@kfb.org

Photos of the event can be found at http://bit.ly/1VM3CE7
FOR IMMEDIATE RELEASE
Food, farming and fun found at Lawrence Zest & Zing event
LAWRENCE, KAN. – Food, farming and fun were the themes for last night's Zest and Zing cooking competition and fundraiser held in Lawrence at the Cider Gallery. The event was hosted by Kansas Farm Bureau, the Kansas Corn Commission and Douglas County Farm Bureau. The event raised $700 for Just Food, a Lawrence food bank.
Four students from Eudora/Desoto Culinary Technical Program and Culinary Lawrence competed against each other in a one-hour cooking competition. The Eudora/Desoto team of Laken Wagner, Mill Valley High School and Samantha Green, Eudora High School, were named winners with their dish of pork medallions, mushroom risotto and sweet potato mash. Runners up from the Culinary Lawrence team were Gavin Jeffrey and Tanner Liba, both from Free State High School.
Following the competition, a panel of local growers shared how they raise the food we eat. Panelists included Lowell and Krystale Neitzel who grow corn and soybeans and raise livestock in Lawrence; Michael and Christy Springer who raise pigs on their third-generation farm in Wilson County; and Scott Thellman, a first-generation organic and conventional farmer who owns Juniper Hill Farms in rural Douglas County.
Half of the ticket proceeds and a small auction provided $700 to Just Food, a Lawrence Food Bank. According to Elizabeth Keever, Just Food Executive Director, the food bank can provide five meals for every $1 they receive. This money will provide 3,500 meals to area families in need.
"This event provided an opportunity for people to gather and enjoy a very fun cooking competition while raising money for a worthwhile organization," Meagan Cramer, Kansas Farm Bureau's director of communications and marketing says. "The panel of farmers also brought lots of discussion and questions about today's farms."
Zest and Zing was sponsored by Kansas Farm Bureau, Kansas Corn Commission, Douglas County Farm Bureau, Kansas Farm Bureau's Women's Leadership Committee, and 1st district county Farm Bureaus including Atchison, Brown, Doniphan, Jackson, Jefferson, Pottawatomie, Shawnee and Wyandotte
-- 30 --