Harvey County family named Farm Family of the Year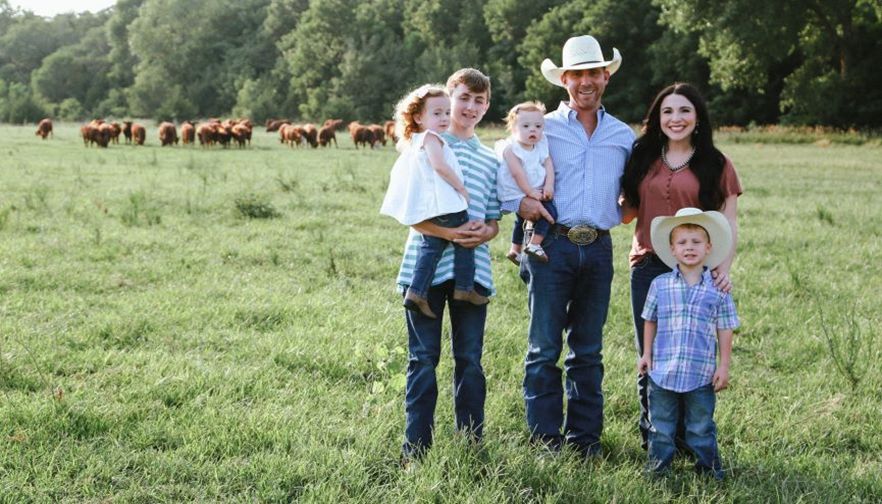 Josh and Macey Mueller, Harvey County, are one of Kansas Farm Bureau's (KFB) Farm Family of the Year honorees.
Each year, a select number of families receive the Farm Family of the Year award for their service and leadership in agriculture, Farm Bureau and their communities. This year there were 10 families.
Josh is a fourth-generation Harvey County farmer and has been involved in the agriculture industry since birth. The Mueller family owns a diversified cattle and farming operation, including 60 head of fall-bred Red Angus females and 1,000 acres of hay, sorghum, wheat, triticale and soybeans. The Mueller family also raises feeder calves and uses a combination of Red Angus and Charolais genetics to produce an ideal combination of carcass and growth traits. Additionally, the Mueller family backgrounds 1,500 head of cattle annually. In 2019, the Mueller family purchased a livestock auction barn, where they market 55,000 head of cattle each year. The Muellers have utilized the livestock auction barn to give back to their community, along with hosting educational tours, producer workshops and animal welfare trainings. 
In addition to assisting with the family farm and ranch, Macey uses her communications background to support the livestock auction barn and assists with record keeping. She also writes articles for state and national agricultural publications.
Josh served on the Harvey County Farm Bureau board from 2013 to 2019 and was an active member of the VOTE FBF committee. Macey has continued the family's commitment to service since joining the county board in 2020. They regularly attend legislative forums and have developed beneficial relationships with their legislators. Macey helps share agriculture's story with the public by using KFB's hashtag, #myksfarmlife, on social media. 
As lifelong Farm Bureau members, the Muellers are proud to stand with an organization dedicated to protecting their livelihood and making it possible to introduce future generations to an industry they love.