Insight for the week of Oct. 17, 2016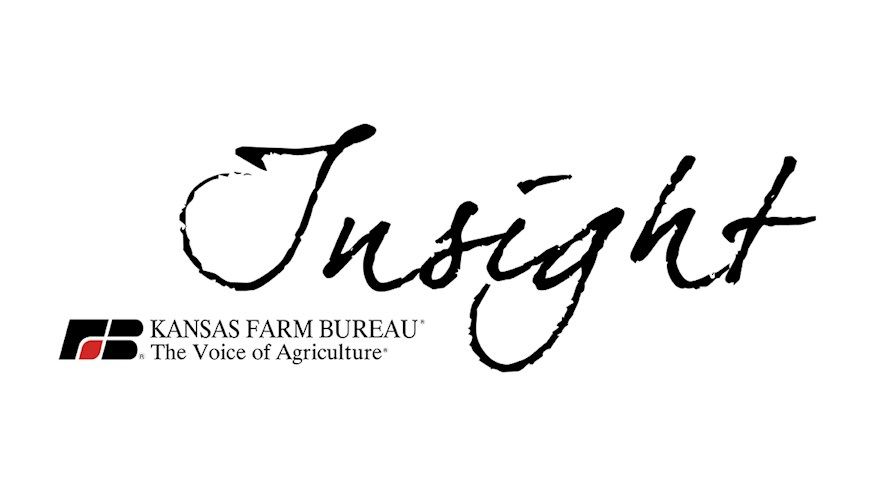 For the week of Oct. 17, 2016
Kansas byway celebrates agriculture
By John Schlageck, Kansas Farm Bureau
Oct. 6 marked the dedication of the first byway to exclusively celebrate agriculture in this country. Located in far western Kansas and named the "Land and Sky" scenic byway, it follows Highway 27 through Wallace, Sherman and Cheyenne counties.
The Land and Sky scenic byway stretches 88 miles from Wallace County to Cheyenne County. This byway consists mainly of crops, livestock and pasture and showcases Kansas agriculture.
Since our state's beginning, farming and ranching have played a major role in the Kansas economy, it's communities, culture, heritage and people. Today, agriculture remains the state's largest industry, economic driver and employer.
Farming and ranching accounts for approximately 20 percent of the state's GDP and directly employs approximately 17 percent of the Kansas labor force, or nearly one in five jobs. Kansas remains a national leader in wheat, grain sorghum and beef production.
"Agriculture is an exciting, dynamic industry," says Robin Jennison, Kansas secretary of Wildlife, Parks & Tourism. Jennison helped cut the ribbon and spoke to those attending the Land and Sky dedication. His family has farmed in Lane County since 1887.
Farming and ranching is something to celebrate and be proud of in Kansas," Jennison says. "Kansas agriculture is exciting and interesting and people who visit our great state and northwestern Kansas will have an opportunity to experience this rich and diversified culture."
Nearly 100 people attended the events and tour during the first week of October. Wallace County hosted the first day of the dedication with a celebration and tour of the Fort Wallace Museum. That evening nearly 75 people traveled to Mount Sunflower to view the stars and identify the constellations after sunset.
In case you don't know, Mount Sunflower is the highest point in Kansas with an elevation of 4,039 feet above sea level. Mount Sunflower is located on the Harold Family Ranch.
With no disruption from earthly light, the stars appeared like countless pinpricks in the pitch-black sky and provided a mesmerizing panorama overhead.
The next day began at Smoky Gardens south of Goodland and finished in St. Francis. At Smoky Gardens, attendees heard from Kansas Cowboy Hall of Fame historians Gary and Margaret Kraisinger.
A chuck wagon lunch, complete with piping hot beef and vegetable stew, warmed the visitors who braved the brisk northerly winds at the Sherman County Fairgrounds.
After lunch the tour moved to the Arikaree Breaks. This area of extremely rough terrain with its deep ravines and gullies offers a marked contrast to the plains generally associated with this area of northwestern Kansas. The tour ended with some guests touring the new motorcycle museum in downtown St. Francis.
Oct. 5-6 provided a day chock full of events and gave visitors the opportunity to experience what the Land and Sky byway offers. More importantly, it included a panoramic patchwork of crops including corn, milo, soybeans and sunflowers decked out in brown, red and yellow.
This vibrant, ever-changing landscape serves up a different assortment of crops and colors throughout the year providing travelers a chance to see a different look throughout the seasons. During the springtime, when the wheat crop looks like a great green carpet, visitors travelling through often ask, "why are these lawns out here with no houses or people?"
With the new byway in place, these visitors will learn the answer to this question and more about the land and crops. Travelling through western Kansas will also afford a chance to experience the culture and heritage of the people who call this country home.
Thousands of acres of rolling hills, valleys, canyons and ravines showcase this scenery. Future plans include turn-outs and interpretive signs that will further enhance the learning experience.
The people who live, work and raise their families in Wallace, Sherman and Cheyenne counties hope visitors will come see their rural lifestyle and enjoy the experience of living in farm and ranch county. Who knows, some may like it well enough to move to this region of land and sky in western Kansas.
John Schlageck is a leading commentator on agriculture and rural Kansas. Born and raised on a diversified farm in northwestern Kansas, his writing reflects a lifetime of experience, knowledge and passion.
-30-