Jackson County family named Farm Family of the Year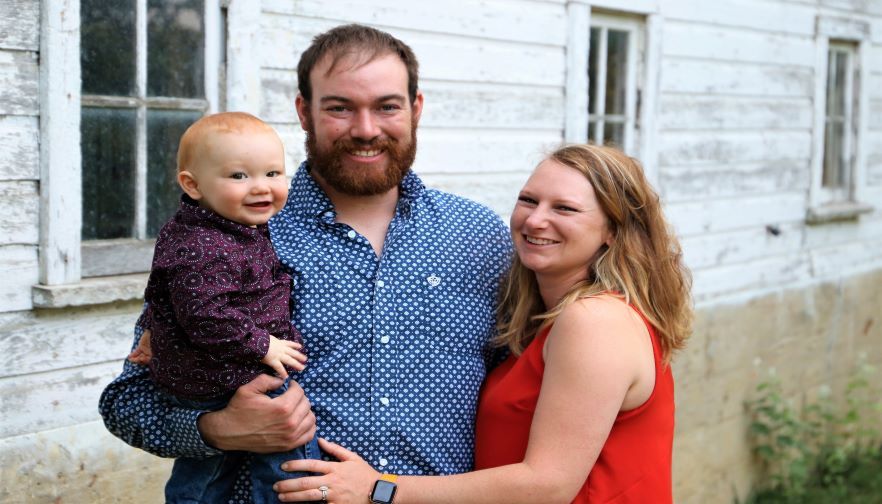 Kenley and Bryce Carpenter, Jackson County, are one of Kansas Farm Bureau's (KFB) Farm Family of the Year honorees.
Each year, a select number of families receive the Farm Family of the Year award for their service and leadership in agriculture, Farm Bureau and their communities. This year there were 10 families. 
Bryce and Kenley Carpenter operate a farm in Jackson County, just two miles from Kenley's family's farm. Kenley runs an Angus/Charolais crossbred cow-calf operation with her father along with a custom calving operation. Bryce works off the farm as a maintenance welder. In addition, he and other experienced firefighters offer a prescribed burn service for area ranchers. Being parents to their son, Calvin, and immersing him in the life of agriculture is their greatest joy.
Kenley's served in multiple roles on the Jackson County Farm Bureau board including president, vice president and county women's leadership chair. She was a Collegiate Farm Bureau member at Cloud County Community College where she served as president and in 2016, was part of the Leadership KFB Class. Kenley is currently serving on the KFB beef advisory committee, and she is excited about getting more involved in Farm Bureau on a national level. Additionally, the Carpenters are active members of their community and attend Evangel United Methodist Church. 
The Carpenters understand the future of agriculture and Farm Bureau lies in everyone's hands, whether that be the traditional farmer or the specialty farmer, associate member or voting member.