KFB announces endorsements for Kansas House, Senate primary races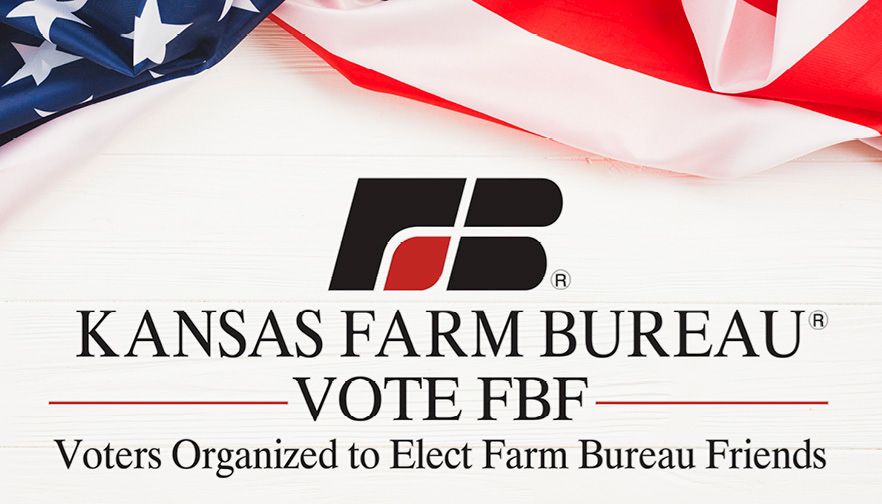 MANHTATTAN — Kansas Farm Bureau's Voters Organized to Elect Farm Bureau Friends (VOTE FBF) Political Action Committee has announced its primary election candidate endorsements for state races in Kansas for the Aug. 4 primary. Since 1993, VOTE FBF has endorsed and supported candidates for public office who support farming and ranching and rural Kansas.
"We are proud to represent our members as the Voice of Agriculture, and we believe our grassroots-driven endorsement process does just that," says Rich Felts, Kansas Farm Bureau president. "County Farm Bureau boards across the state have been working for months talking to and vetting candidates. Their voices are reflected in the endorsements VOTE FBF has made."
Kansas Farm Bureau encourages Kansans to support these VOTE FBF-endorsed candidates and continue to research candidates in races where no endorsements have been made as we work to elect a vote for agriculture.
"We're encouraging our members to consider voting by mail-in ballot," Felts says. "It's simple, effective and eliminates any uncertainty about how 105 Kansas counties can effectively manage a complicated election process in our current circumstances. For more information about mail-in voting, contact your county election official."
This announcement follows VOTE FBF's previously released choices for federal races where it endorsed Roger Marshall for U.S. Senate, Tracey Mann (R-KS 1), Jake LaTurner (R-KS 2) and Rep. Ron Estes (R-KS 4).
The following is Kansas Farm Bureau VOTE FBF's state House endorsement list:
| District | Candidate |
| --- | --- |
| 1 | Michael Houser |
| 2 | Kenneth Collins |
| 4 | Trevor Jacobs |
| 5 | Mark Samsel |
| 6 | Clifford Blackmore |
| 7 | Richard Proehl |
| 8 | Chris Croft |
| 9 | Kent Thompson |
| 11 | Jim Kelly |
| 12 | Doug Blex |
| 13 | Joe Newland |
| 14 | Charlotte Esau |
| 15 | John Toplikar |
| 16 | Rashard Young |
| 20 | Jan Kessinger |
| 21 | Bob Reese |
| 26 | Adam Thomas |
| 27 | Sean Tarwater |
| 30 | Laura Williams |
| 33 | Tom Burroughs |
| 39 | Owen Donohoe |
| 40 | David French |
| 42 | Jim Karleskint |
| 43 | Bill Sutton |
| 47 | Ronald Ellis |
| 48 | Terry Frederick |
| 49 | Megan Lynn |
| 50 | Fred Patton |
| 51 | Ron Highland |
| 52 | Jesse Borjon |
| 54 | Ken Corbet |
| 56 | Tim Clothier |
| 59 | Blaine Finch |
| 60 | Mark Schreiber |
| 61 | Francis Awerkamp |
| 62 | Randy Garber |
| 63 | John Eplee |
| 64 | Suzi Carlson |
| 65 | Lonnie Clark |
| 66 | Sydney Carlin |
| 68 | Dave Baker |
| 69 | Clarke Sanders |
| 70 | John Barker |
| 71 | Diana Dierks |
| 73 | Les Mason |
| 74 | Stephen Owens |
| 75 | Will Carpenter |
| 76 | Eric Smith |
| 77 | Kristey Williams |
| 78 | Ron Ryckman |
| 79 | Cheryl Helmer |
| 81 | Blake Carpenter |
| 82 | Jesse Burris |
| 83 | Henry Helgerson |
| 87 | Susan Estes |
| 89 | KC Ohaebosim |
| 90 | Steve Huebert |
| 91 | Emil Bergquist |
| 92 | John Carmichael |
| 93 | Brian Bergkamp |
| 94 | Leo Delperdang |
| 95 | Tom Sawyer |
| 97 | Nick Hoheisel |
| 98 | Ron Howard |
| 99 | Susan Humphries |
| 100 | Dan Hawkins |
| 101 | Joe Seiwert |
| 102 | Jason Probst |
| 103 | Ponka-We Victors |
| 104 | Paul Waggoner |
| 105 | Brenda Landwehr |
| 107 | Susan Concannon |
| 108 | Steven Johnson |
| 109 | Troy Waymaster |
| 110 | Ken Rahjes |
| 111 | Barb Wasinger |
| 112 | Tory Arnberger |
| 113 | Donna Hoener-Queal |
| 115 | Boyd Orr |
| 116 | Kyle Hoffman |
| 117 | Leonard Mastroni |
| 118 | Jim Minnix |
| 119 | Brad Ralph |
| 120 | Adam Smith |
| 121 | John Resman |
| 122 | Russ Jennings |
| 123 | John Wheeler |
| 124 | Marty Long |
| 125 | Shannon Francis |
The following is Kansas Farm Bureau VOTE FBF's state Senate endorsement list:
| District | Candidate |
| --- | --- |
| 1 | Dennis Pyle |
| 3 | Willie Dove |
| 5 | Kevin Braun |
| 7 | Laura McConwell |
| 8 | James Todd |
| 9 | Julia Lynn |
| 10 | Mike Thompson |
| 11 | John Skubal |
| 12 | Caryn Tyson |
| 13 | Richard Hilderbrand |
| 14 | Bruce Givens |
| 15 | Dan Goddard |
| 16 | Ty Masterson |
| 17 | Jeff Longbine |
| 20 | Eric Rucker |
| 21 | Tom Bickimer |
| 23 | Rob Olson |
| 24 | Randall Hardy |
| 26 | Dan Kerschen |
| 27 | Gene Suellentrop |
| 28 | Mike Peterson |
| 30 | Renee Erickson |
| 31 | Carolyn McGinn |
| 32 | Larry Alley |
| 33 | Mary Jo Taylor |
| 34 | Ed Berger |
| 35 | Richard Wilborn |
| 36 | Elaine Bowers |
| 37 | Molly Baumgardner |
| 38 | Bud Estes |
| 39 | John Doll |
| 40 | Rick Billinger |