Kansas State University/Washburn Law School Agribusiness Symposium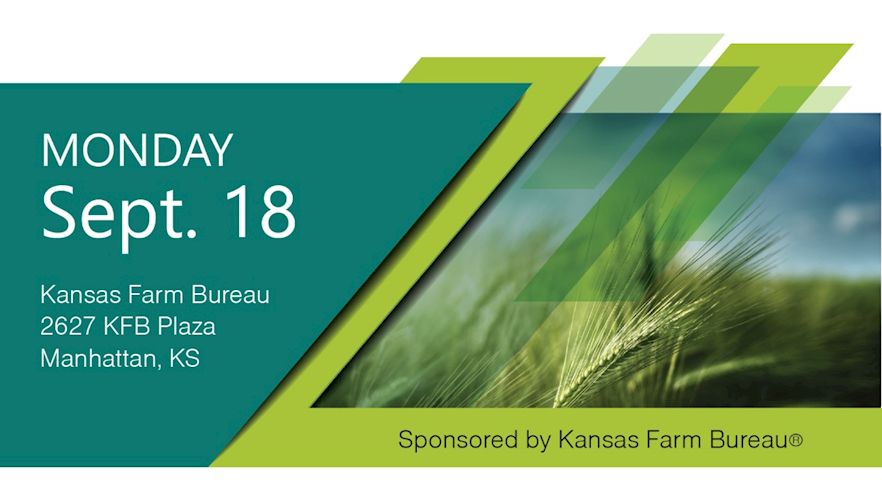 Registration is now closed
Washburn University School of Law, Kansas Farm Bureau, and Kansas State University present the 2nd annual symposium that examines the intersection between the business and economics of agriculture and the legal environment in which they operate. The legal environment is composed of the body of law impacting agriculture, the applicable tax systems, and government programs unique to agriculture. Law and regulation impacting the agricultural businesses of farming and ranching are the focus of this symposium.
The symposium is being held at Kansas Farm Bureau, 2627 KFB Plaza, Manhattan, KS ( map ), on Monday Sept. 18.
This CLE and CPE will also be available as a webinar for those who would like to attend online.
Symposium Schedule
Morning Session
7:40 a.m.
Registration
8 a.m.

Introductions & Welcome

Terry Holdren
CEO and General Counsel, Kansas Farm Bureau

8:15 a.m.


The Farm Financial Situation

Farm income bounced back in 2016 although roughly 2/3s of Net Farm Income was from Government payments. This discussion will look at the situation including early thoughts on where 2017 will be from a farm income perspective and the situation farmers face as they plan for 2018. Farm profit margins continue to be very tight although there have been opportunities to price crops during the summer of 2017.
Allen Featherstone, Department Head, Agricultural Economics, Professor, Director of Master in Agribusiness Program, Kansas State University

9:15 a.m.

Regulation

This session focuses on the importance of contracts in the farming operation.
Ryan Flickner, Senior Director, Advocacy Division, Kansas Farm Bureau

9:45 a.m.

Break

10 a.m.

Tax and Legal Considerations, Part One

The tax and associated legal issues arising from the wildfire in Kansas in early 2017; financial distress tax issues; wheat streak mosaic issues.
Roger McEowen, Kansas Farm Bureau Professor of Agricultural Law and Taxation, Washburn University School of Law

10:40 a.m.

Weather

Understanding the frequency and variability of severe weather is critical to risk management. This session will look at the various types of severe weather, the frequency of the occurrence, and various tools to manage the risks associated with the events.
Mary Knapp, Service Climatologist, Department of Agronomy, Kansas State University

11:15 a.m.

Crop Insurance

Conditions when crop insurance does not cover the crop loss.
Art Barnaby, Jr., Professor, Department of Agricultural Economics, Kansas State University
Afternoon Session
1 p.m.

Rural Law Program

An update on Washburn University School of Law's Rural Law Program.
Shawn Leisinger, Centers for Excellence Executive Director, Externship Director, and CLE Director, Washburn University School of Law


1:30 p.m.

Succession Planning

When people think of farm and ranch succession planning, they often think of the process of passing the assets of an estate to the next generation. That is a very important component of farm and ranch succession, but there are other very important components, too. Communication strategies, intergenerational and family dynamics, strategic planning, operations planning, financial feasibility, establishing a farm business structure, and determining how to transfer the work, management and leadership of the farm or ranch all also important issues. This session will examine these components of succession planning and suggest ways for you to organize your succession planning activities.

Greg Hadley, Associate Professor, Department of Agricultural Economics, Kansas State University

2:15 p.m.
Break
2:25 p.m.

Tax Considerations, Part Two

This session focuses on selected tax topics uniquely applicable to farming and ranching operations.

Roger McEowen

3:10 p.m.
Break
3:20 p.m.

Interstate Water Disputes

From Montana to Florida, a record number of states are currently litigating interstate water disputes before the Supreme Court; meanwhile, other states are seeking to resolve their own interstate water conflicts outside the courtroom. Both types of contests are raising important questions about the role of the federal government in water supply management, the increasing importance of groundwater supplies, and the relationship between interstate disputes and state water law. This presentation will survey the interstate disputes before the Supreme Court, settlements reached outside the Court, and provide some informed speculation about what these results might mean for Kansas.

Burke Griggs, Associate Professor of Law, Washburn University School of Law

4:05 p.m.

Producer Panel

Various producers discuss the issues they face and the value of lawyers/economists and other professionals to their business.

4:45 p.m.

Adjourn

REGISTRATION FEE
$250 for attendees seeking CLE credit
$50 for all others
CLE CREDIT
Accredited by the Kansas Continuing Legal Education Commission for 6.0 CLE hours, including 6 hours of Online CLE (no ethics hours are available as part of this program).
OTHER CONTINUING EDUCATION CREDIT
Accredited for 7 hours credit for CPAs and IRS agents.
INFORMATION FOR ONLINE ATTENDEES
This CLE will be streamed using Adobe Connect. There is no charge to use Adobe Connect. The link will be sent to online attendees via email.
*Online attendance at this program falls under the Kansas Continuing Legal Education Commission's Nontraditional Programming Limitation. Nontraditional programming is limited to a maximum of 5 hours of credit per compliance period.
Registration is now closed