Leaders Engaged and Acting in D.C. happening in 2022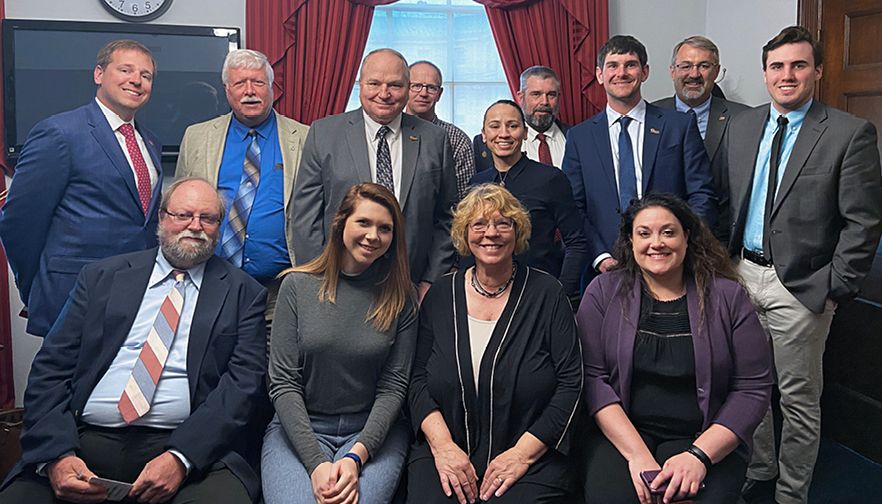 March 2022 - Washington, D.C.
More details about the 2022 LEADs is coming soon! In the meantime, you can learn more about LEADs below.
---
Info from the 2020 LEADs trip to Washington, D.C.
What to expect in D.C while on the LEADs trip:
Hear policy updates from AFBF staff
Meet with your Kansas Representatives
Attend U.S. Senate & House Committee hearings
Have an opportunity to tour areas of D.C.
Enjoy a LEADs/Ag-Day reception with VIP guest
Take an optional day trip to Thomas Jefferson's mansion and working plantation at Monticello; visit the nearby town of Charlottesville
Expenses
Farm Bureau will offer opportunities to take group tours, enjoy an evening event and visit Monticello. You are not required to attend any of the optional events we suggest but because of that, expenses will vary from family to family. Below are a few costs you can expect to incur:
**For any county sending a member or members, Farm Bureau will provide a $500 credit per county to any final billing that comes for the home office. These estimates are based on a member and their spouse attending.
Hotel room - $249/night
Airfare - $250 - $650/person. Remember, D.C. in March brings a lot of spring break trips to town. Book ASAP to avoid paying higher airfare!
Optional tours/Monticello/reception/transportation - $250-300
Estimated total - $1100 + airfare
Registration
The registration deadline for the 2020 LEADs trip is Feb. 3. Register through your County Coordinator. County contact information is located on the right-hand side of the link under "County Farm Bureaus." Use the drop-down to locate your county. 
Hotel
KFB has a rooming block at the Residence Inn by Marriott, 333 E Street, SW Washington, D.C. 20024, (202) 484-8280. Please follow this link to the hotel's website to make your reservations at the Residence Inn by Marriott.
Resources