Lane County family named Farm Family of the Year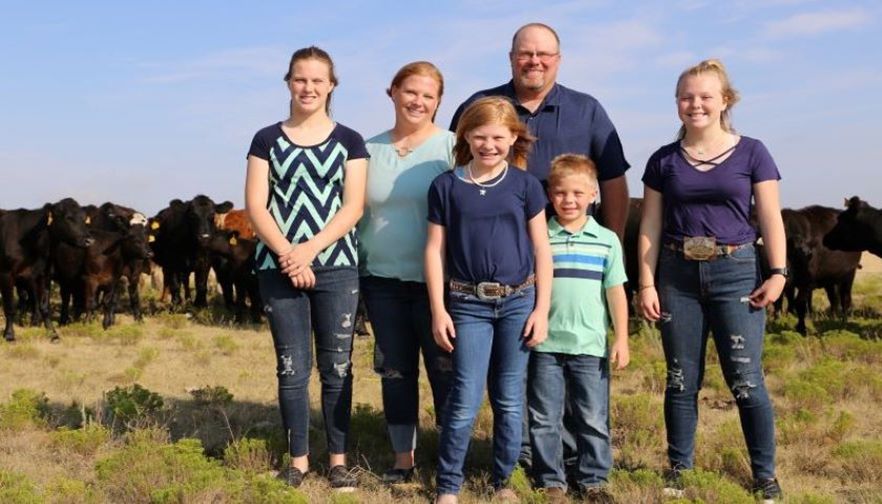 Mark and Cindy Cramer, Lane County, are one of Kansas Farm Bureau's (KFB) Farm Family of the Year honorees.
Each year, a select number of families receive the Farm Family of the Year award for their service and leadership in agriculture, Farm Bureau and their communities. This year there were 10 families. 
Mark and Cindy Cramer are the fourth generation to live on their Lane County farm, where they manage more than 3,000 acres of irrigated and dryland ground and raise corn, wheat, milo, soybeans, sunflowers and kids. They also run 200 pairs of cattle on 3,000 acres of grass and practice minimal and no-till farming to help conserve soil health. Mark began farming with his dad and grandpa when he was old enough to walk, while Cindy grew up just 10 miles away and was her dad's right hand on the farm.
Cindy has served on the Lane County Farm Bureau board for nine years and is currently the president. She also served on KFB's strategic planning committee. Mark serves on KFB's oilseeds advisory committee. The Cramer family loves 4-H, and their kids enjoy showing cattle, pigs and goats. Cindy currently owns and operates a T-shirt shop in Scott City where she makes shirts for sports teams, families and other members of her community. 
The Cramer family looks forward to passing the farm to the next generation and understands the value of sharing agriculture's story with others so it can be enjoyed by all.