Yesterday's traditions, tomorrow's opportunities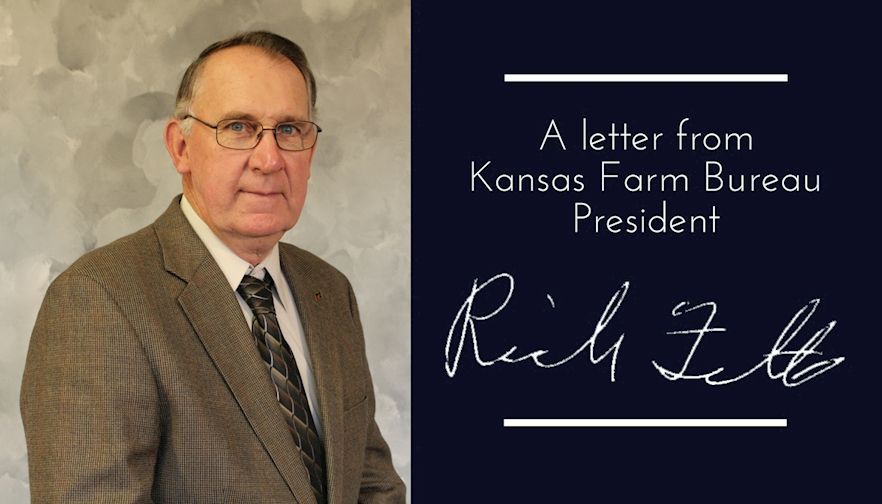 As we move into 2017, things will change, as they do each year. We're gearing up for new opportunities, new obstacles, new goals and new challenges. A new President of the United States begins in January, two new board members were elected to the Kansas Farm Bureau Board of Directors in December, and some new faces and leadership will be found in the statehouse.
While we look forward to the future, we must also appreciate and acknowledge the past. In 2016, your farm organization played a critical role in several legislative issues important to the farmers and ranchers in our great state, enhanced educational opportunities for members and non-members alike and provided service to our communities.
In advocacy we:
WOTUS – The Waters of the U.S. regulation would be a massive overreach for the Environmental Protection Agency, should a final rule be adopted. Farmers and ranchers care about their water quality and quantity and we've made sure our elected officials know this. A federal lawsuit has a long way to go and could last well into next summer, or longer. Legislative efforts are underway as well to prevent implementation. As always, we will keep you updated on the progress.
Stop Fowl Play – KFB continues to fight efforts to list the lesser prairie chicken (LPC) as a threatened or endangered species. Putting further restrictions and regulations on our western Kansas producers is something we can't stand for, especially when studies have shown the bird's population has been increasing due to more rainfall and localized conservation efforts. Although the appeal to list the LPC as threatened was vacated in July, the U.S. Fish and Wildlife Service agreed in December to take a second look at the status of the chicken. Look for updated information in your bi-weekly enews and monthly Farm Leader Letter as it comes.
Legislative races – Kansas Farm Bureau is proud to have a strong endorsement process through Voters Organized to Elect Farm Bureau Friends (VOTE FBF). This year, we saw a 90 percent success rate in electing KFB-endorsed candidates. Most notably was the election of Dr. Roger Marshall in the Big First Congressional District. This process doesn't take place from the top – it's truly a grassroots effort that we take extreme pride in.
In education we:
Leadership KFB – The 2016 class of Leadership KFB took part in 19 days of leadership training, tours, visits and speakers to learn more about the agricultural industry within the state. These leaders will continue to advocate for agriculture in their local communities, state government and even engage in federal topics.
Communications, Media and Spokesperson Training – Nine members participated in this intensive training exercise that requires on-the-spot interview skills and knowledge of current issues in agriculture. We are proud of this group of leaders who took themselves out of their comfort zone.
Collegiate Farm Bureau and YF&R – We understand youth plays an integral part on our farms and ranches. By utilizing programs like our Collegiate Farm Bureau network and the Young Farmers and Ranchers program, we incentivize and encourage this group of important leaders to help guide our organization. We brought on a new Collegiate Farm Bureau chapter at the University of Kansas and are proud of our status as the largest YF&R Conference in the nation.
In service we:
Fire Relief – The Anderson Creek fire affected many of our members and in response, county Farm Bureaus and members stepped up by donating money, supplies and labor. Kansans truly come together in times of need.
County Work – This is where we really shine. County Farm Bureau leaders offered more than 314 events that focused on member services at the county level. With this and many other activities, our members volunteered more than 116,000 hours. That's a value of more than $2.5 million. Outstanding and incredible.
These are just a few highlights your farm organization completed this year. I am so proud of the work this organization does and could write pages documenting the things you do to invoke that pride.
With change, comes opportunity, and we know the mission of Kansas Farm Bureau will remain: to strengthen agriculture and the lives of Kansans through advocacy, education and service. We will continue to press toward that goal in local, state and federal issues on behalf of you.
We know we are stronger together than we are alone. Let's continue the tradition in 2017.
If you have any questions, please feel free to contact me at askrich@kfb.org.