County Presidents Conference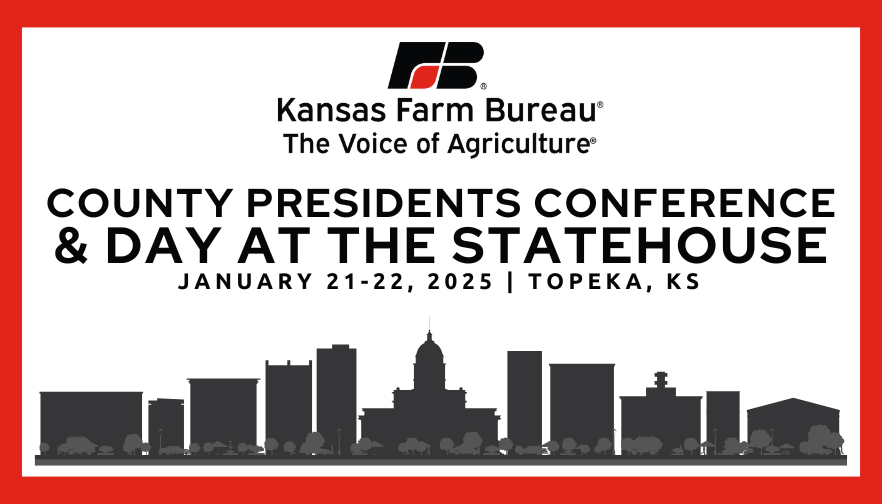 The County Presidents Conference will gather county Farm Bureau association leaders to:
Build relationships between peers leading county associations across the state.
Increase knowledge of Farm Bureau priorities, services, opportunities and support in order to elevate the success of local work and establish greater consistency in association governance and strategy.
Enhance the skills and capacity of county presidents as the foundation for high-functioning, efficient and effective county associations.
Registration
Registration here by November 1.


  Time
Event
Description
10:00 AM

Welcome & Role of a County President

A discussion of the work and importance of County Presidents in their county and across the state.

10:30 AM

County Showcase Recognition Program Roll Out

Learn about KFB's new program to track, recognize and celebrate the annual work of county Farm Bureaus and review expectations of county associations to make sure your goals are on track.

 11:15 AM

Break



 11:30 AM

County President's Survey Results

Review the findings and key takeaways of this fall's county president's survey conducted by KFB.

11:45 AM
Administrative Resources
What does KFB provide to help counties with human resources and accounting responsibilities? Take a look at longstanding and brand-new resources and learn best practices for strong county management. 

12:30 PM
Lunch


1:15 PM
Three Pillar Highlights

Advocacy – how to use our grassroots structure to stand behind resolutions
Education – developing a long-range mindset and plan for volunteer recruitment and engagement
Service – updates and announcements from KFB Health Plans, the End Hunger campaign and more

2:30 PM
Break



2:45 PM
Partnership Panel
Discover how your county Farm Bureau can be a positive player in solving challenges and making your region of the state a place where Kansans thrive.

3:45 PM
County President's Wrap Up & Send Off

Leave the day with all the last-minute details and motivation to do your job well in the coming year.

4:00 PM
Adjourn




Questions?
Contact Leigh Ann Maurath at 785-953-0268 or maurathl@kfb.org for more information.