County Presidents Conference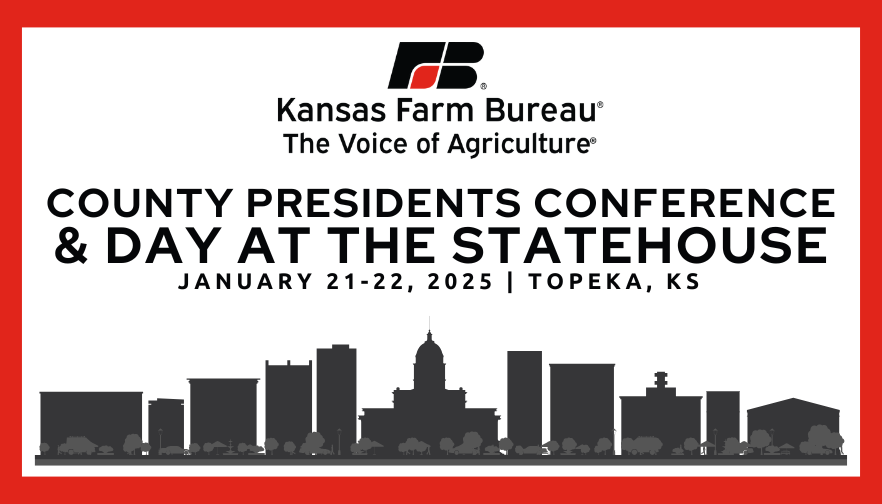 The County Presidents Conference will gather county Farm Bureau association leaders to:
Build relationships between peers leading county associations across the state.
Increase knowledge of Farm Bureau priorities, services, opportunities and support in order to elevate the success of local work and establish greater consistency in association governance and strategy.
Enhance the skills and capacity of county presidents as the foundation for high-functioning, efficient and effective county associations.
Registration
Register here by January 4.
Attendees are encouraged to participate in Day at the Statehouse activities on Wednesday, January 17. Please find more information and register for that event separately here.
Lodging
Hotel accommodations are the responsibility of the individual/county Farm Bureau. The negotiated rate at the Cyrus Hotel, our host venue, is $159 rate per night plus taxes. Most conference activities will take place in the Cyrus Hotel and it is within easy walking distance of outside venues. Complimentary transportation will also be provided from the Cyrus Hotel to the Beacon. 
Cyrus Hotel
920 S Kansas Ave, Topeka
785-596-0500
Click Here to Make Your Hotel Reservations by December 15


Tentative Agenda 
10:00-10:45 AM

Opening Session

Cyrus Ballroom
11:00 AM-12:00 PM

Breakout Sessions

Three options TBA.

Cyrus Ballroom

Vanguard Room

Colonel Boardroom

12:15-1:30 PM

County Presidents Lunch

Network with your district over a meal and hear important organization updates that will impact your county.

Cyrus Ballroom
1:45-2:45 PM
Breakout Sessions
Three options TBA.


Cyrus Ballroom

Vanguard Room

Colonel Boardroom

3:00-4:15 PM
County Presidents Roundtables
Small group conversations about topics that matter to county presidents.

Cyrus Ballroom
4:30-5:00 PM
General Session
A wrap up to the day before the evening events begin.

Cyrus Ballroom

5:30-6:30 PM
Cocktail Hour
Founder's Room (The Beacon)
6:30-8:30
Voice of Agriculture Celebration Dinner
Enjoy an evening of celebration and lively, friendly and interactive debate.

Dining Room (The Beacon)


Questions?
Contact Leigh Ann Maurath at 785-953-0268 or maurathl@kfb.org for more information.