Director's Report - December 2015
DIRECTOR'S REPORT

During the 16 year history of the Kansas Farm Bureau Foundation for Agriculture, we have awarded more than $100,000 in scholarships to agriculture students all across the state.

This newsletter is dedicated to two Fort Hays State University students who have received financial support from your foundation. They include Amy Varner and Lane Mai. I wish you could meet these two Fort Hays State University students. I have had the privilege to speak to them at length about their future professional work in agriculture. It's clear the future of agriculture is in good hands.

I think you will enjoy reading their stories.

President Rich Felts, CEO Terry Holdren and KFB Board Member Doug Zillinger and staff participated in a full day visit with the FHSU leadership of the department of agriculture. We had lunch with current and former scholarship winners over the last three years. It was nice to see how they are doing and how they are impacting agriculture today and the future.

As you read, consider how you can make a difference in helping us permanently endow our future efforts to grow and expand our scholarship opportunities at K-State, Fort Hays State and many of the junior colleges that have active agriculture programs and technical schools.

Call (785-587-6106) or e-mail me wattsh@kfb.org to discuss how you can help your foundation permanently endow agricultural scholarship giving.

Together we can ensure our future farmers continue to grow and learn.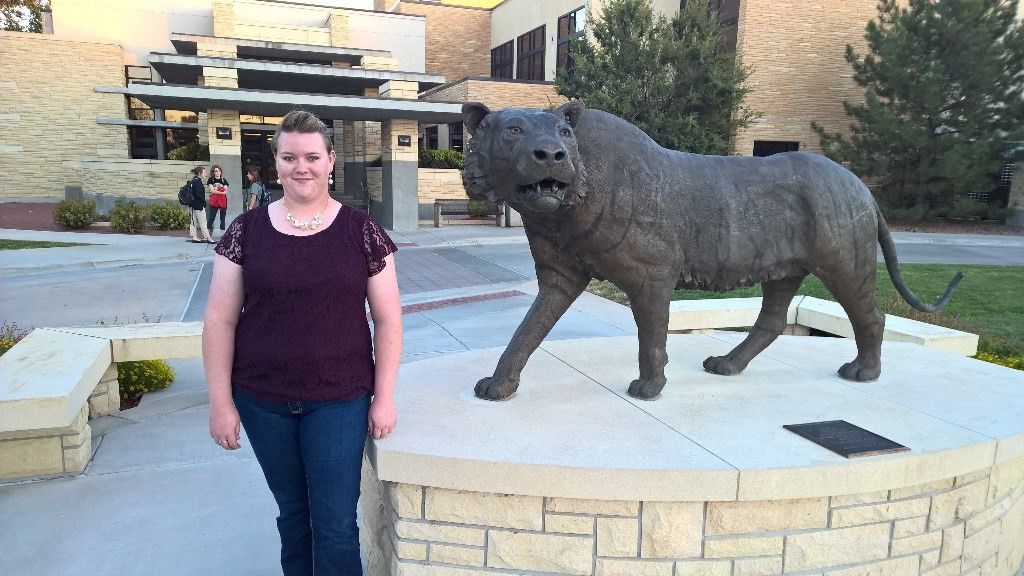 Amy Varner
Amy Varner grew up on her family farm near Towanda. Amy is the fourth generation to grow up working on the farm, just like her father and uncle, who work on the farm full-time, and just like her grandfather and great-uncles. Amy's mother teaches 5th grade for El Dorado Schools, and also comes from a family farm in Mullinville.

The Varner family farm is a diversified operation with a 300-head cow-calf operation, and crops including wheat, corn, soybeans, and hay. The younger generation of Varners specialize in raising goats for both meat and dairy, which initially began as a 4-H project but is rapidly growing. Amy is the oldest, with two younger sisters, Tara and Shelby. The three sisters have shown dairy goats in three states, and Amy has attended the American Dairy Goat Association (ADGA) National Dairy Goat Show in Minneapolis, MN and Louisville, KY.

At Fort Hays State University, Amy's been involved in Delta Tau Alpha (the agricultural honor society), the Agribusiness Club and Collegiate Farm Bureau. As if she weren't active enough, she even sings in the FHSU Women's Chorale. Her recent internship with ADM as a commodity merchandiser earned her a post-grad position with the company.

After graduating from FHSU and through her position with ADM, Amy's goal is to educate the public about farming challenges facing the future, such as water usage in western Kansas. She believes it's more important than ever to use her education to advocate for more efficient use of resources on farms, and connecting the public to agriculture.

"The financial award from Kansas Farm Bureau Foundation for Agriculture is greatly appreciated. It's nice to know that an organization who supports agriculture so much is willing to invest in the younger KFB members, too."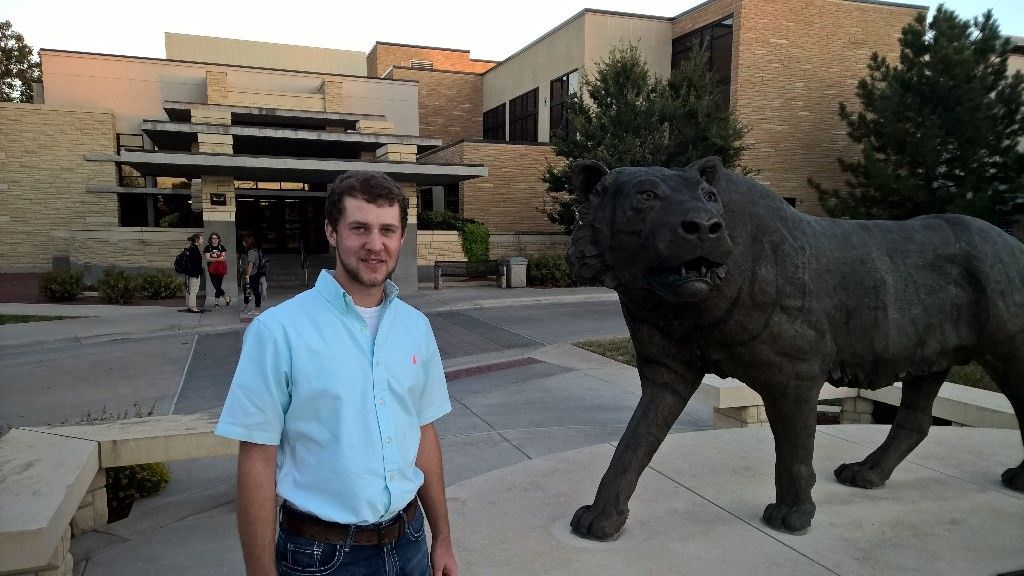 Lane Mai
Fort Hays State University student Lane Mai comes from a family farm in Russell county. Lane, his parents, and his brother "work as a family to make things work." And they need all the help they can get with 800 acres of crops, 40 head of cattle, and an ever-growing show pig operation to manage.

The farm is only one aspect of the Mai family's involvement in agriculture. Lane's mother works for a crop insurance company and his father is Parts Manager at a local implement dealership. The whole family stays active in the county's 4-H program and the local FFA Alumni chapter. When they're not busy working on the farm, Lane and his family are traveling across the country to show and exhibit their livestock.

Lane is the third generation to raise hogs on the Mai family farm, but they've made the transition from commercial hogs to the niche market of show pigs. Although with his schoolwork and helping to maintain the farm leaving very little free-time, Lane is a member of the Collegiate Farm Bureau organization at FHSU.

His goal after graduation is to return to the farm full time to raise show pigs, grow the herd of cattle, and take over the farming operation; just as generations before him have done. Lane believes his education at FHSU has afforded him the knowledge needed to help tackle the growing demand for food production and farmers.

"It's an honor to be selected as a recipient of the Kansas Farm Bureau Foundation for Agriculture Scholarship and I greatly appreciate their help towards furthering my education. Thanks to the KFB Foundation's involvement in Kansas agriculture and generosity in funding scholarships, I can attend school, thrive in the classroom and graduate with a degree that has a positive impact on my future."


Consider Donating