2016 Kansas YF&R Leaders Conference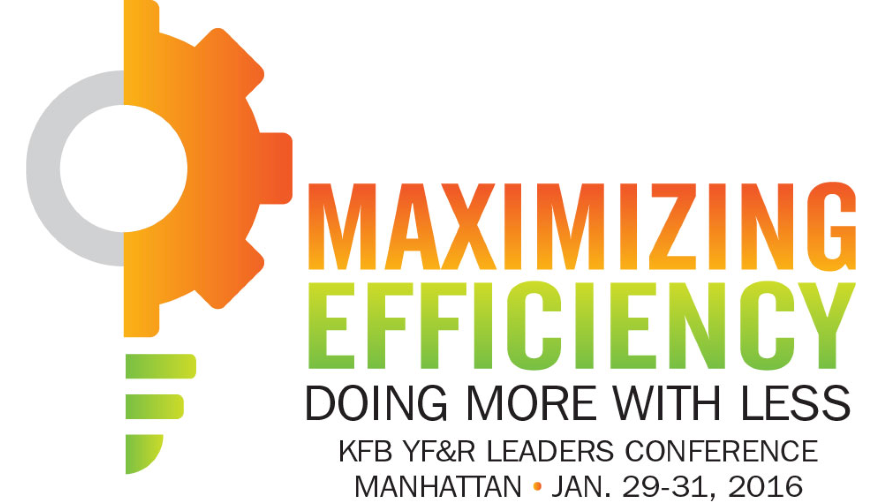 Join more than 500 young men and women from across Kansas to engage in agriculture education, be motivated by speakers, connect with industry resources and network with peers. This year's theme, Maximizing Efficiency, is focused on how you can do more with less. Whether it be higher yields, improved conservation, stronger family relationships, or a more powerful voice for agriculture, this event will empower attendees to return home with the tools and knowledge to make positive changes for their farms, families and communities. Talk to your county board or coordinator today about attending the 2016 Kansas YF&R Leaders Conference!
The Manhattan Conference Center, located in downtown Manhattan, Kansas, will be the host of this year's conference. With comfortable and spacious meeting rooms, easy access from I-70 and Hwy 24, and a location convenient to top-notch hotels and restaurants, this venue is the ultimate place for attendees to meet and connect in Manhattan.
Registration
Online Registration is now closed.
Your registration includes access to conference content, the Conference Kickoff (Friday evening), YF&R Celebration Luncheon (Saturday noon), and Sunday Breakfast. Lodging and all other meals are the responsibility of the attendee or their county Farm Bureau. Registration closes on January 20.
Kansas Farm Bureau has blocked rooms at six hotels with affordable, negotiated rates. Detailed information about the hotels can be found here. Please reference "Young Farmers & Ranchers" when booking in the KFB block.
| | | | | |
| --- | --- | --- | --- | --- |
| Hotel | Status | Price | Contact | Booking Deadline |
| Hilton Garden Inn | SOLD OUT | $111 +tax | 785-532-9116 | December 31, 2015 |
| Fairfield Inn | Rooms Available | $99 +tax | 785-539-2400 | January 7, 2016 |
| Candlewood Suites | Rooms Available | $99-109 +tax | 785-320-7995 | January 8, 2016 |
| Holiday Inn Express & Suites | Rooms Available | $95-99 +tax | 785-320-7454 | January 1, 2016 |
| Bluemont Hotel | Rooms Available | $95 +tax | 785-473-7091 | December 21, 2015 |
| Parkwood Inn & Suites | Rooms Available | $85 +tax | 785-320-5440 | January 1, 2016 |
From Friday to Sunday, this conference is packed with speakers, workshops, and opportunities to connect that you won't want to miss. Check out the schedule here to start planning your experience.
Speakers
Saturday Keynote: Vance Crowe
Vance Crowe is the Director of Millennial Engagement at Monsanto in Saint Louis, Missouri and is passionate about addressing global challenges at the intersection of science, sustainability and communications. He is a former Communications Strategist for the World Bank Group, a returned U.S. Peace Corps Volunteer stationed in Kenya, a former communications coordinator at a National Public Radio (NPR) affiliate in Northern California and was a deckhand on an eco-tourism ship that traveled in the Western Hemisphere. Vance holds an undergraduate degree in communications and sociology from Marquette University and a Master's Degree in Cross-Cultural Negotiations from the Seton Hall School of Diplomacy. Connect with Vance on twitter @VanceCrowe.
Sunday Keynote: Alden Mills
Odds are that you or someone you work with uses Alden Mills' inventions. He is a former Navy SEAL who has been awarded more than 40 patents, which have sold over 10 million products (and counting) worldwide. He's created five #1 ranked infomercials, achieved five #1 top selling products on Amazon.com and is the author of Be Unstoppable: The 8 Essential Actions to Succeed at Anything.
The company he co-founded and led, Perfect Fitness (e.g. Perfect Pushup, Perfect Ab-Carver, etc.), gained national acclaim through Inc. Magazine as the fastest growing consumer products business from 2007 to 2009, with an astounding 12,000%+ grow-rate going from $500k to over $63M in just three years.
His mantra is "Success is a team sport." Mills learned his mantra early in life as an uncoordinated, asthmatic who persevered to be a one-time Olympic rowing hopeful before going on to be a three-time #1 ranked Navy SEAL platoon commander. He applied his lessons learned in leading SEAL platoons to building and leading a hyper-growth company. He has over 25 years of military and business leadership experience building, leading and innovating with teams. For Mills, it is all about enabling people to achieve more than what they originally thought was possible.
When not writing, speaking or coaching, you can find Alden in the water or on a mountain with his bride and four boys!
This year, the YF&R Conference will feature five competitions for collegiate and YF&R members, including:
YF&R of the Year Award
Excellence in Agriculture Award
YF&R Discussion Meet
Collegiate Discussion Meet
Collegiate Ag Quiz Bowl
Click here to learn more about these opportunities to have fun, be recognized, receive cash prizes and win a trip to a future AFBF event.
District Dinners
On Saturday evening, each district will gather for dinner at a local restaurant. Meet your YF&R Committee representative, KFB Board representative, district administrator and other engaged YF&R members from your area. Reservations for each district have been made at the following restaurants at 5:45 p.m. After dinner, the evening is free to spend on your own in Manhattan. The cost of dinner will be the responsibility of each attendee unless otherwise communicated.
District 1 - Houlihan's Restaurant & Bar (1651 Anderson Ave)
District 2 - Kite's Grille & Bar (615 N 12th St)
District 3 - Wahoo Fire & Ice Grill (1101 Moro St)
District 4 - Pigins BBQ (105 N 3rd St)
District 5 - Ramblers Steak House & Saloon (8200 Southport Dr) - Sponsored by United Bank & Trust
District 6 - Kite's Grille & Bar (615 N 12th St)
District 7 - Willie's Sports Bar & Grill (307 S Seth Child Rd)
District 8 - Kite's Grille & Bar (615 N 12th St)
Districts 9 & 10 - Tallgrass Taphouse (320 Poyntz Ave)
Social Media Contest
Want to be entered to win an easy $50? Thought so. Here's the deal. During Kansas Farm Bureau's Young Farmers and Ranchers Leadership Conference Jan. 29-31, 2016, upload a few photos to your Instagram or Facebook profile. Use the hashtag #KFBYFR16 on every post.
Jan. 29: Photo Booth Challenge

- Upload a photo to Instagram and/or Facebook of a selfie of you with someone from your district using the KFB Photo Booth area (you'll know where it is that evening, don't worry). Selfie sticks will be available for use, but be sure to leave them for others. Selfie sticks are for sharing.

Jan. 30: Thank a Sponsor Challenge

- Upload a photo to Instagram and/or Facebook saying thank you to a conference sponsor. Creativity is key here, folks.

Jan. 30: Workshop Challenge

- Share what you learn. Today, you will hear different speakers and attend workshops. Upload a photo of your workshop and tell us in the caption how you're going to use this on your operation.

Jan. 31: Pancake Challenge

- Rise and shine! Upload a photo to Instagram and/or Facebook of you or someone from your district catching (or attempting to catch) their pancakes from Chris Cakes. Extra points for one-handed catches.
Accounts that post all four pictures will be entered into a drawing for a $50 gift card. The winner will be announced during the Closing General Session. Social media accounts must be public to be eligible.
Tours

The seven below offsite tours will be offered during the conference. Spots are limited so please register for no more than one tour here. Transportation will be provided and buses will leave from the East Hallway entrance of the conference center.
Friday, January 29, 3:30-5:30 p.m.
K-State Sports Complex

Wheat Innovation Center
Saturday, January 30, 10:15 a.m.-12:15 p.m.
K-State Dairy Unit
K-State Beef Stocker Unit
K-State Vet Med Diagnostics Lab
Saturday, January 30, 2:00-4:00 p.m.
International Grains Program (IGP) and K-State Grain Science
Kansas Department of Agriculture
Trade Show
Blue Valley Telecommunications

Heartland Soil Sampling

High Plains Journal
Kansas Agricultural Mediation Services
Kansas Corn Commission
Kansas Corporation Commission (KCC)
Kansas Pork
Kansas Soybean Commission
Kansas Wheat
KARL
Kansas Farm Bureau
K-State Global Campus
K-State Master of Agribusiness
Mid Kansas Co-op (MKC)
Seward County Community College/Area Technical School
Sorghum Check-Off
Syngenta
UMB
We would like to thank the following sponsors:
If you're interested in supporting the 2016 YF&R Leaders Conference, contact Laton Dowling at dowlingl@kfb.org or 785-587-6108.