No more bacon and eggs?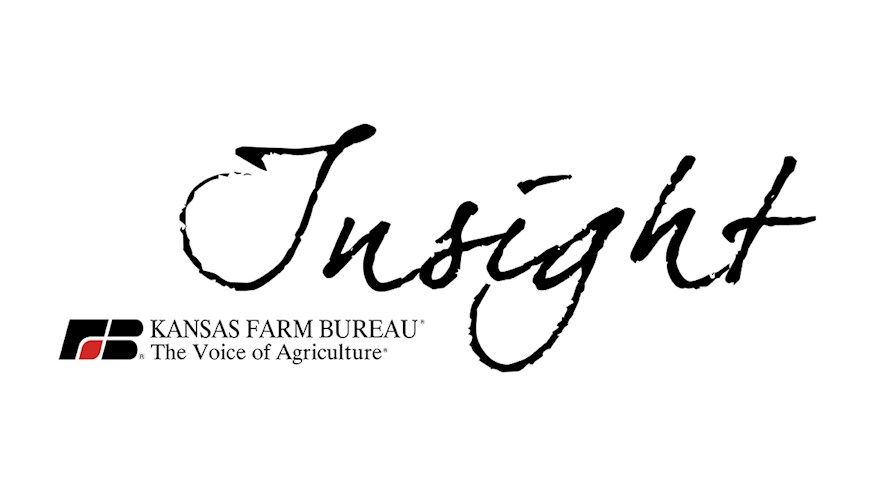 For the week of Sept. 11, 2017
No more bacon and eggs?
By John Schlageck, Kansas Farm Bureau
I love to eat. Like millions of fellow Americans there's nothing better than food grown and produced on this nation's farms and ranches.
I'll eat a thick, choice rib-eye steak hot off the grill any time. Make sure it has all the fixings – baked potatoes, steamed green beans, salad, fresh bread and a chilled gin martini.
I also like a home-cooked omelet with my Sunday morning paper. You know the kind, three eggs filled with sautéed mushrooms, diced red peppers and onions, cheddar cheese, wheat toast with a couple strips of bacon on the side and a tall glass of cold milk.
And dessert, who doesn't enjoy a piping-hot piece of apple pie with ice cream?
You can't beat great food, prepared right. There's nothing like it.
That's why it's so hard to stomach hearing about the many ways our Kansas and American farmers and ranchers are scrutinized today. Still, every year we expect farmers and ranchers to grow more and more food with less land. Every year they do so.
Attacks and smear tactics originate from all sides. Environmental groups, animal welfare activists, everyone seems to have their own agenda and the media just can't seem to tell the whole tale.
That's the reason we in agriculture must tell our story. Consumers are people and people forget.
They forget our farmers and livestock producers make sure we eat the healthiest, most affordable food on the planet. These producers also take care of their livestock because it's the right thing to do. It is part of a farmer and rancher's values that embody everything they do.
And what about the Human Society of the United States (HSUS) and People for the Ethical Treatment of Animals (PETA) who contend they're leading the charge to "step up for animal welfare."
In case you haven't heard, HSUS has one goal and one goal only – the total elimination of all animal agriculture in this country. Go to their website and check it out. HSUS wants to remove meat, milk and eggs from the human diet, yours and mine.
Most Americans have never lived or worked on a farm. Still they retain nostalgic visions of their grandparents or great-grandparents' farms.
You know the story where these farmers and ranchers of old grew their own vegetables, milked a few cows, raised pigs for bacon, ham and pork chops and cared for a couple dozen chickens who laid eggs in an old white wooden chicken coop.
Like a lot of things from the past, nostalgia might appear to be better than it really was. Many of our grandparents were barely able to eke out a living while raising a large family.
The days of yesteryear on the farm took a lot of hard work from sunup to sundown. Many still went hungry or broke and times were lean.
Today's animal husbandry, or care and feeding of livestock, is no accident. Rather, it's because of the dedicated men, women and children who raise and care for this state's livestock. For generations, Kansas farmers and ranchers have watched over and nurtured cattle, hogs, sheep, chickens and other livestock each and every day.
The more comfortable these animal producers make their animals, the more productive they're going to be and the better opportunity they'll have to make a profit.
The health and welfare of livestock trumps everything else on the farm, even a producer's own comfort. That's been the recipe for success for nearly 150 years and with any luck it'll be the same for another 150 years.
Oh, did I mention?
I'll be grilling a thick, juicy ribeye tonight – medium rare.
John Schlageck is a leading commentator on agriculture and rural Kansas. Born and raised on a diversified farm in northwestern Kansas, his writing reflects a lifetime of experience, knowledge and passion.
-30-