Pinpointing Policy: Ag Chemicals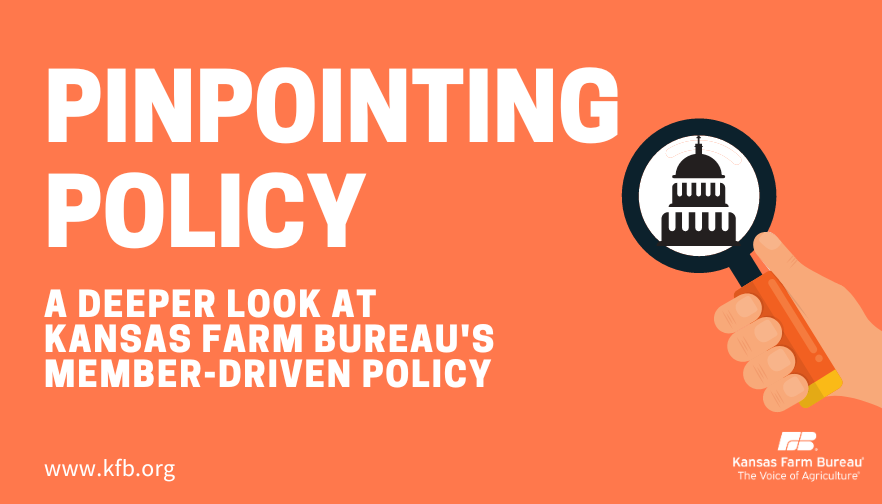 Recent news in the U.S. has given a significant amount of attention to agricultural chemicals regulated under the Federal Insecticide, Fungicide, and Rodenticide Act (FIFRA). Headlines of acquisitions, court cases and positions taken by foreign governments have all highlighted the nation's interest in their regulation and use. Kansas Farm Bureau and American Farm Bureau Federation policy each support the safe and judicious use of agricultural chemicals, used in accordance with FIFRA labeling requirements, as they are an important tool in global agricultural production.
KFB Policy:
"We support complete and detailed labeling of all agricultural chemicals;
We oppose the intentional misuse of agricultural chemicals;
We encourage regulatory agencies to recognize modern agricultural practices and to promulgate regulations that allow producers and dealers to be responsive to agronomic, weather, environmental and production management needs." (AG-3, pgs. 8-9)
AFBF Policy:
"Agricultural chemicals are important in continuing to supply consumers with an abundant, safe, nutritious, high quality and reasonably priced food supply." (336.1, pg. 49)
"We recognize the ecological importance of pollinators and the necessity to judiciously utilize crop protection products against loss of crop yield." (336.14.7, pg. 49)
"We support the widespread promotion and voluntary use of IPM as a method of reducing costs, risks, liability and total dependence on farm chemicals." (343.6.1, pg. 54)
Kansas Farm Bureau members work hard to effectively manage their crops and take care of the land for the next generation.
Further policy on agricultural chemicals can be found in the KFB and AFBF 2019 policy books.
If you have a question, comment or modification on KFB policy, members can provide suggestions for policy changes, additions or deletions by filling out this online form.