Standing by Science - A letter from KFB President Rich Felts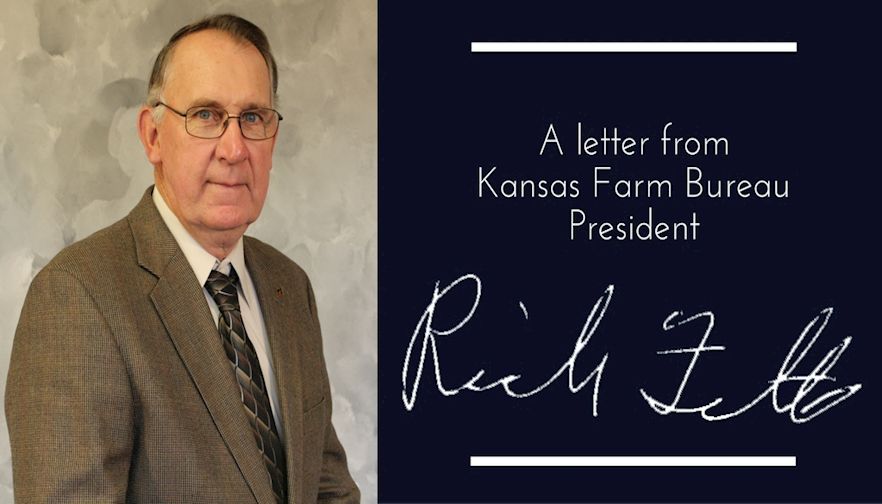 It is a time of uncertainty. Many of us are likely working from home, working in smaller groups of people or taking other measures to help flatten the curve of COVID-19. And we should. In agriculture, we believe in science and stand by it. This is another time to believe in science to help mitigate the spread of the coronavirus. Even if you're in a remote part of the state, taking precautions to protect your community is important.
We know you love your rural way of life. You go to church, care about your neighbors and want the best for your community. During this uncertain time, consider virtual church, call your neighbor on the phone to check in and make sure you take precautions so the future of your community can thrive.
We know you have a job to do. You work hard every day to produce the food, fuel and fiber we all need to get through each day. Farmers and ranchers, along with other professions, provide a supremely essential service to our nation.
At Kansas Farm Bureau, we are working on legislative issues to help you continue to work, while protecting your community. As part of the Kansas Agriculture Alliance, we, along with other agricultural entities, signed a letter to Gov. Laura Kelly that outlines the extreme importance of agriculture's infrastructure. We're also providing agricultural education resources and other information on KFB's COVID-19 webpage.
In addition, American Farm Bureau Federation is diligently working with Congress on several agricultural-related issues as it pertains to protecting America's farmers and ranchers through this pandemic. You can find all of AFBF's COVID-19 information here.
Standing by science is something we should do – if not for ourselves, then for our neighbors, friends, relatives and local communities.
We're all in this together.