The Christmas spirit is not what you drink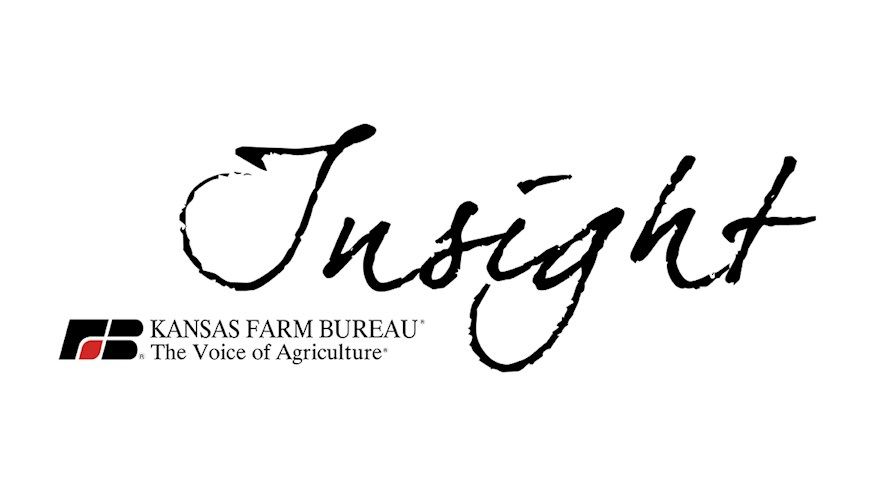 For the week of Dec. 17, 2018
The Christmas spirit is not what you drink
By John Schlageck, Kansas Farm Bureau
Many, many traditions exemplify Christmas – a decorated tree, colored lights, gift giving, parties and turkey or ham dinners. Most of these traditions are recent additions.
The greatest gift associated with Christmas is the one of caring for one another. This gift is also the ultimate Christmas story – God's love for man.
A tradition that continues in our family is going to church and Midnight mass. In the small, northwestern Kansas community where I grew up, church was the spiritual and social center for life among rural farm people. As a youngster, I remember mother dressing us in our Sunday best and then bundling us up for the walk to St. Martin of Tours.
Magic dwelled inside our church during Christmas. On the right side, miniature statues of cattle and sheep surrounded Mary, Joseph and the Christ child. On the altar, candles flickered as their dark, tongued-shaped shadows danced on the sacristy wall. Christmas carols streamed out of the choir loft as organist Lilly Kingston offered her gift to the newborn babe.
I enjoyed every minute of the service, but it was pure torture to stay around and visit in front of the church afterwards. While we attended church services, Santa dropped by our home.
I couldn't wait to run home and rip open packages. Like every other youngster, I counted the days. It seemed like Christmas would never arrive.
As a young child, I don't remember seeing Santa until I was four. That's about the time the jolly, old fat man dropped down our chimney with gifts galore.
While Santa was a big part of Christmas in our family, the Christ child was of course more important. My family did a good job balancing the two.
My parents grew up during the Great Depression. Anything that cost money was rare at Christmas. Gifts for mom and dad consisted of useful things like clothing and maybe one toy for each child – if crops and harvest had been bountiful. Ice cream and fresh oranges were always a special treat reserved for the celebration of the Christ child.
We were more fortunate in the gift department. Santa always came to our door toting a bulging burlap bag filled with toys. You see, the Schlageck children were very good little girls and boys – at least that's the way we pictured ourselves, especially before Christmas.
Probably my favorite gift was a "wind-up" toy train. I played for hours with that wonderful gift. If this wasn't heaven, it was the next best thing.
Until the mid-60s our family always celebrated Christmas with a real tree. Then plastic, artificial trees dominated the market. Unfortunately, we erected one too.
Mom decorated our house with brilliant red poinsettias. While she was decorating, she would tell us the legend of how the poor Mexican boy prayed to Christ for a gift he could give. As he arose from his knees a poinsettia plant grew at his feet. The boy broke off the branches and took the beautiful poinsettia to the altar.
Our dining room table was a celebration of food during the holiday season. Christmas dinner consisted of turkey, mashed potatoes and gravy, cranberries, fresh-baked crescent rolls, green peas and a relish dish. For dessert, pumpkin pie and freshly whipped cream was the fare that completed the feast. That was our favorite, and my mother made the best.
Mom also made chocolate fudge with walnuts. I ate too many walnuts as a five-year-old, so I picked out the walnuts and ate only the fudge. Homemade peanut brittle was another specialty my mother made for us during Christmas.
As a youngster I had plenty to be thankful for during the holiday season. A wonderfully decorated home, the smell of baking turkey and the anticipation of Christmas are memories I will cherish forever.
This Christmas, like so many folks, we will celebrate Christmas with our family and friends. We celebrate Christmas in our home with traditions of our own.
Christmas is truly for children and those who love them. The joy we see in the eyes of a child will remain always in our hearts.
Remember during this holiday season that joy springs from the heart of anyone dedicated to caring and helping others. The Christmas spirit dwells inside each of us.
This holiday season, say a prayer of peace for all, and worship the Christ child like many have for more than 2,000 years.
Merry Christmas.
John Schlageck is a leading commentator on agriculture and rural Kansas. Born and raised on a diversified farm in northwestern Kansas, his writing reflects a lifetime of experience, knowledge and passion.
-30-