2017 KFB Photo Contest Winners Announced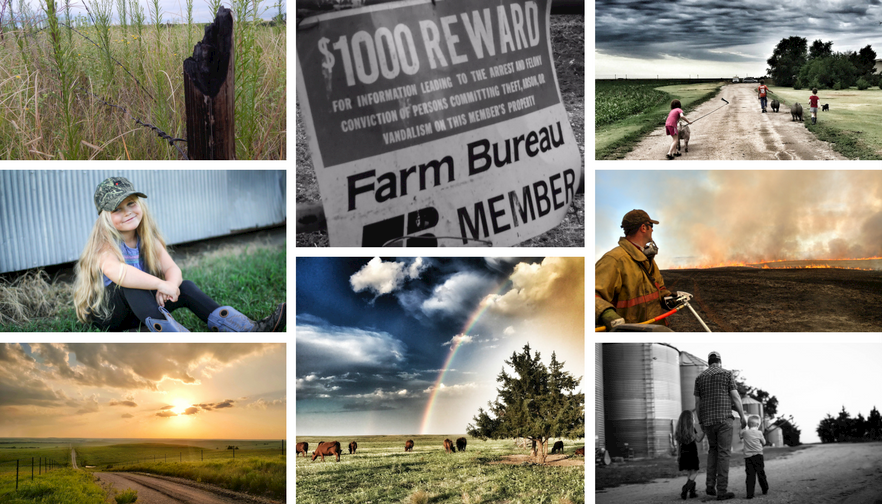 The annual Kansas Farm Bureau (KFB) Photo Contest is hosted by the state Young Farmers & Ranchers (YF&R) Committee. The contest is open to any amateur photographer who is a Farm Bureau® member of any county in Kansas.
Photo contest winners will be featured among several other entries in a 2018 calendar generously provided by UMB. These calendars will be distributed at the KFB Annual Meeting and YF&R Leaders Conference this winter. Thank you to UMB for your support!
First and second place winners will receive awards at the 2017 KFB Annual Meeting and attendees will choose the People's Choice Award from these eight photos. Thank you to all those who entered the 2017 KFB Photo Contest and congratulations to the winners!
Farm Bureau Proud
photos that include a Farm Bureau or YF&R logo somewhere in the picture
1st Place

"Raised #FarmBureauProud"

Amanda Winter

Sedgwick County

2nd Place

"Proud Member"

Dolly Wilson

Atchison County
From the Ashes
photos that show the perseverance the Kansas farmer and regrowth after the impact of fire
1st Place

"On Fire During a Burn"

Jamie Panek

Pratt County

2nd Place

"Still Recovering"

Bethany Eckols

Graham County
Home on the Range
photos of the view that makes you love calling this state your home
1st Place

"Reds and Rainbows"

Brandy Marcy

Wichita County

2nd Place

"A Flint Hills Sunset"

Leann Mitchell

Greenwood County
Thriving Rural
photos that capture the people and places that make small town living great
1st Place

"Walking with the Future of Farming"

Amanda Winter

Sedgwick County

2nd Place

"Farm Kids Walking the Bacon"

Brandy Marcy

Wichita County