KFB Summer Jubilee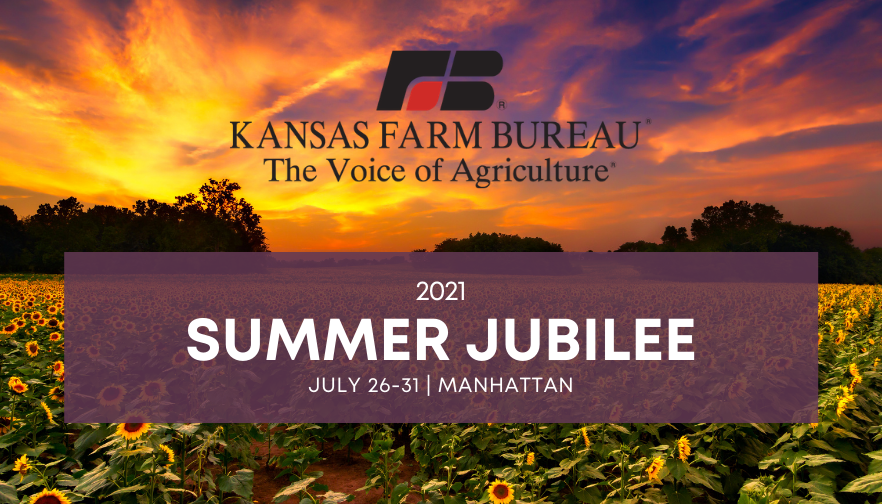 Kansas Farm Bureau is looking forward to the opportunity to see you in person this summer for networking and personal and professional growth at the Summer Jubilee. This Manhattan-based event will combine summer state board and committee meetings, the annual Summer Summit, a Big Tent Reunion tour stop and the 2021 Young Farmers & Ranchers conference. There's something for every Farm Bureau member and all are invited to participate. Find all the details below and tell us you're coming by registering today!
Full Summer Jubilee Tentative Agenda
State Board & Committee Meetings
July 26-29
The following groups of state leaders will meet to conduct organizational business and engage in planning and development of KFB programs and policy.
KFB Board of Directors, July 26-27
Campaign School, July 27-28 - this is a test run of a program KFB hopes to offer to members interested in elected office in the future. The trial run is open to KFB and VOTE FBF board members and KFB staff.
VOTE FBF Board, July 28
Membership & Promotions Committee, July 29-30
Resolutions Committee, July 29-30
Women's Leadership Committee, July 29-30
Young Farmers & Ranchers Committee, July 29-30
Summer Summit
Friday, July 30 | Hilton Garden Inn & Conference Center, 410 S. 3rd St, Manhattan
The KFB Summer Summit was born with a goal of convening state committee members to enhance capacity and develop synergy between volunteers and programming. It has evolved to be a one-day event in the summer that allows any member to be part of the mid-year policy and organizational updates, leadership development sessions and statewide networking. This event is free and open to all members but registration is required. 
Register Here by July 20
*Note that those registering for the YF&R Conference can indicate their Summit Summer participation all on one form. 
Lodging
Hotel accommodations must be made by the individual/county association. Room blocks are available at the following locations:
Hotel
Price (+tax)
Contact
Booking Deadline
Cancellation
Location
Hilton Garden Inn
410 S. 3rd Street
$109
Book Online

785-532-9116
July 1
48 Hours Notice
Connected to Conference Center
Bluemont Hotel
1212 Bluemont Ave.
$98
Book Online
Click "Group Login"
Group Code: JUB0721
Password: kfb

785-473-7091
July 2
48 Hours Notice

7-10 minute drive to conference center; 1 block from Aggieville

Tentative Schedule:
Time
Session
Location
8:30-10:00 a.m.
Leaders' Summit
A general session with key industry information and organizational updates.
Big Basin/Kaw Nation
10:15-11:15 a.m.
Ag & Rural Issue Workshops - Morning Session
Tentative Topics:

Renewable Energy 101
Rural Economic Development Panel
Kansas Soil Health Alliance

McDowell
Tuttle


Alcove

10:15 a.m.-12:30 p.m.
Deep Dive Session: Ending Hunger
An interactive session that will help attendees learn about issues surrounding food insecurity, as well as how to use KFB Foundation for Agriculture grants to develop solutions in their communities.

Ft. Riley/Big Blue River
11:30 a.m.-12:30 p.m.
Networking Lunch
Big Basin/Kaw Nation
12:45-1:45 p.m.
Ag & Rural Issue Workshops - Afternoon Session
Tentative Topics:

NASS Modernization: What's In It For You!
State Agency Updates on Water, Environment and Wildlife Issues
Rural Emergency Hospitals
Social Media for Farm Businesses

McDowell
Tuttle
Alcove
2:00-4:00 p.m.
AgLaunch Producer Interest Meeting
AgLaunch's Farmer Network moves ag innovation forward by giving producers a stake in the success of new technologies in exchange for testing the products and services on their farms. This is an informational meeting about how to get involved. Interested farmers will be required to go through a vetting process before joining the network.



2:00-4:00 p.m.
Navigating Fake News
Fake News. Clickbait. Conspiracy Theories. In today's digital society, it's more important than ever for individuals to evaluate the credibility of information. This session will empower you to analyze critically and engage positively both online and in person.


2:00-4:00 p.m.
Area Tours
Buses Depart from the East Lobby on 3rd Street
4:00-5:00 p.m.
Shop Kansas Farms Showcase
South Foyer
5:15-6:45 p.m.
Farm Bureau Jubilee Reception & Big Tent Reunion Tour
An evening of food and fellowship to reconnect after a challenging 2020. Your summit registration will include the Big Tent Reunion RSVP.
Liquid Art Winery & Estate
1745 Wildcat Creek Road, Manhattan

Complimentary buses will loop between the Hilton and Liquid Art from 5:00-9:15 p.m.
Big Tent Reunion 
Friday, July 30 | Liquid Art Winery & Estate, 1745 Wildcat Creek Road, Manhattan
This summer Kansas Farm Bureau will be hosting gatherings across the state to reconnect after a challenging 2020. Plan on joining us for food and fellowship with Farm Bureau members in the greater Manhattan area on July 30 from 5:15-6:45 p.m. at Liquid Art Winery & Estate. 
If you're registering for Summer Summit or the YF&R Conference, your registration for that event will tell us if you're attending. Anyone who plans to attend the Big Tent Reunion only should
RSVP here
.
YF&R Leaders Conference
Friday, July 30 | Hilton Garden Inn & Conference Center, 410 S. 3rd St, Manhattan
Join young men and women from across the state at the 2021 Young Farmers & Ranchers Leaders Conference on July 30-31. The event will focus on connecting you with practical tools and resources to add value to your daily work, expanding your peer and professional network and providing encouragement and motivation to keep pushing forward in a tough time for agriculture. Regardless of the crops you grow, animals you raise or off-farm role you play, this conference has something for all young people connected to agriculture and will empower attendees to return home with the tools and knowledge to make positive changes for their farms, families and communities.
This conference is planned with KFB farmer/rancher and collegiate members who are 18-35 in mind, but all individuals who find the content valuable, regardless of membership, age or profession are welcome to register and attend. 
For more information and to register
click here
.