County Coordinator & Sales Associate Conference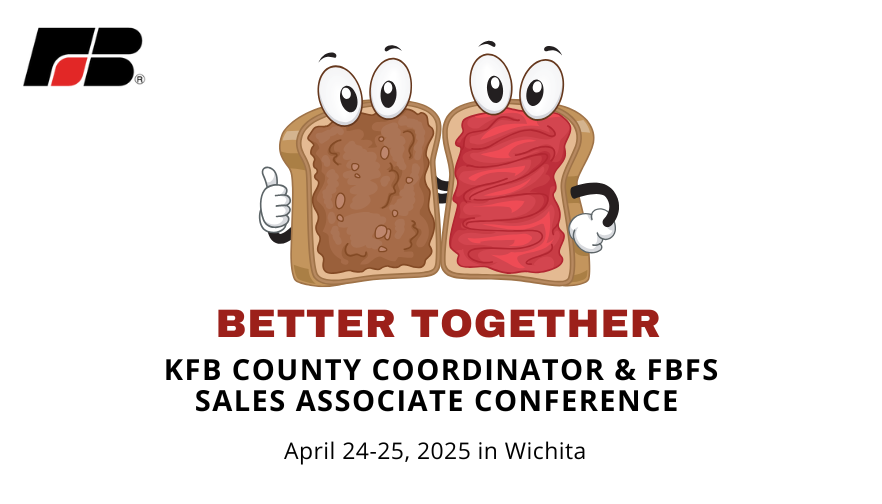 It's time for a Farm Bureau family game night and we've got the winning moves. Join us this spring for an exciting two days of strategy, fun and a little friendly competition as you grow your personal and professional skills, expand your network and resources and celebrate the accomplishments of Farm Bureau throughout the state. This year's event will be in-person at the Hilton Garden Inn & Conference Center in Manhattan.
This event is free to attend, but pre-registration is required by March 31. Register here.
Lodging
Attendees are responsible for booking and paying for their own lodging. A negotiated rate has been established with the conference hotel, the Hilton Garden Inn. 
Hotel
Price (+tax)
Booking Instructions
Booking Deadline
Cancellation Policy
Hilton Garden Inn Manhattan
$109.00
Book Online Here 

Call 785-532-9116 to book under the "Kansas Farm Bureau" block.
Friday, March 17
must be canceled 48 hours prior
Tentative Agenda
Tuesday, April 11
Time
Session
Location
1:00-5:00 p.m.
Pre-Conference Master Classes


Connect 4 (limit 15 people)

Connect with KFB's communications team to develop a winning game plan for how your county communicates. The choice of strategy is yours as you learn more about Canva, social media analytics and creative ways to tell your story. You'll walk away with more tools to tell the story of Farm Bureau.   

Ticket To Ride (limit 10 people) 

Build your tracks across Kansas agriculture by joining KFB's Ag Academy program for a day.  Experience a glimpse of this leadership development opportunity through agriculture tours around Manhattan, KFB policy conversations and a curriculum overview that will help you understand the purpose of the program.  Looking for new adventures? Sign up for this Master Class and claim your ticket to ride. 

McDowell
Alcove
5:30 p.m.
Registration Open
East Foyer
6:00 p.m.
Opening Banquet
Welcome by President Newland

Keynote Address
Jake Worcester, Vice President of Development at National 4-H


Chess: Moving game pieces to improve your community for the next generation so you aren't at a stalemate.

Big Basin
Wednesday, April 12
6:00 a.m.
Twister
Yoga - bring your own mat and wear comfortable clothes.

TBD
7:30 a.m.
Registration Open

East Foyer
7:30 a.m.
Breakfast

South Foyer
8:00 a.m.
General Session
Morning Welcome
Pictionary Talks
Count on big laughs and even bigger learning as we draw updates and resources that matter to counties across the state. All that's needed is a little imagination, great topics and a fast pencil. 

Big Basin
9:15 a.m.
Break



9:30 a.m.
Workshops - Round 1

Clue
Solve the mystery of member-clients. Learn what motivates them, how to welcome them and share great benefits that will leave them feeling like winners when they choose to become a Farm Bureau member. 

The Game of Life
Your life. Your way. Buckle up for an exciting ride through life's twists and turns. Willing to take a risk? Take care of yourself so you can take care of others when you learn moves for a better work life balance.

Scrabble

Spell out your purpose with Farm Bureau. Just like every letter counts in scrabble, every action matters as you reimagine and re-visit why you do what you do. Learn practical ways to build your work around the Farm Bureau mission every day.  

McDowell
Tuttle
Alcove

10:30 a.m.
Break



10:45 a.m.
Roundtable Conversations



11:45 a.m.
Small Group Lunches
Attendees will be split into groups for small group networking over lunch. Lunch provided by Farm Bureau.

Restaurants in Manhattan
1:30 p.m.
Workshops - Round 2

Candy Land
Learn how to bring tomorrow's youth on sweet adventures through a county ag ambassador program with your Farm Bureau board. Let your imagination soar as you learn ways to develop a new program. Come prepared to hear "delicious" surprises from counties across the state.  

Battleship
Avoid the ultimate search-and-destroy situation in your county by learning to manage different, and maybe difficult, personalities. When you're right in the middle of the action, know strategies to avoid sinking in the office, your community and around board tables.

Risk

The goal is simple: aim to conquer poverty in your communities by building a plan, engaging partnerships and learning what reinforcements you can call in. Step into a poverty simulator to understand the strategies you need in place to combat food insecurity in your territory. 


McDowell
Tuttle
Alcove

2:30 p.m.
Ag Education Resource Share & Conversation Tables

Big Blue River/Ft. Riley
& East Foyer
3:15 p.m.
Kansas Farm Bureau Team Meeting

Big Basin

3:15 p.m.
Farm Bureau Financial Services Team Meeting

Alcove
4:15 p.m.
Break



4:30 p.m.
Closing Session
Trivial Pursuit: Rural Community Edition
All the questions. All the answers. Our panelists will answer questions in various rural community categories. Hear from a group of people willing to push through yellow tape, find unusual voices and accomplish big, bold and meaningful things for their communities, no excuses attached. Learn how you can make an impact in your communities, main streets and families, no matter the season of life.

Big Basin
5:30 p.m.
Wrap Up & Adjourn

Big Basin
Questions? Contact Leigh Ann Maurath at maurathl@kfb.org or 785-953-0268.