County Coordinator & Sales Associate Conference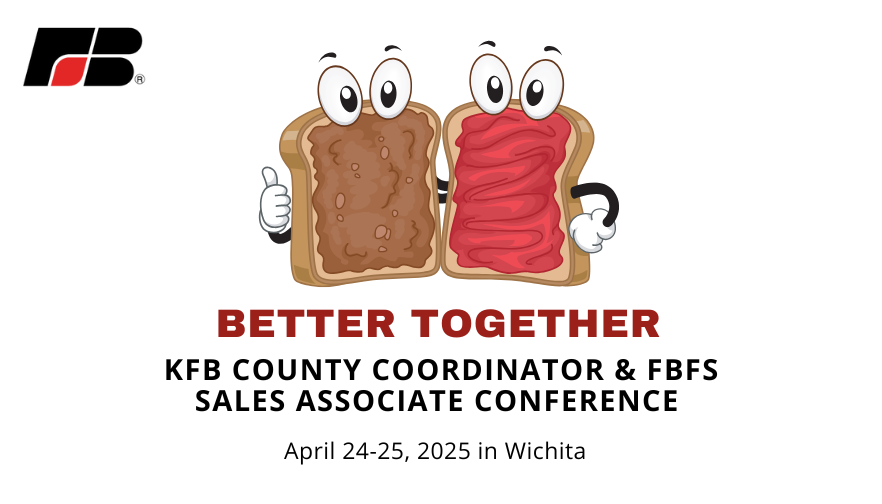 Join us this spring to connect with other county Farm Bureau coordinators and FBFS sales associates, grow your personal and professional skills and celebrate the great work Farm Bureau does in communities across the state. This year's event will be in-person at the Hilton Garden Inn & Conference Center in Manhattan.
This event is free to attend, but pre-registration is required by April 8. Register here.
Lodging
Attendees are responsible for booking and paying for their own lodging. Negotiated rates have been established with the following hotels in Manhattan. Lodging information coming soon.
Tentative Agenda
Wednesday, April 20
Time
Session
Location
12:30 p.m.
Registration


1:00 p.m.
Opening Session
Featuring Keynote Speaker Rhett Laubach
#LiveToServe is a message that will directly impact how you view the relationships in your life and the time you have to make the most of opportunities to serve. Rhett's stories and the lessons he has learned from 25+ years of running a speaking/training business will challenge you to make changes today, both personally and professionally, that will produce meaningful results for many years to come.



2:15 p.m.
Break


2:30 p.m.
Workshops - Round 1



Growing Our Community Partnerships

Join this session for a conversation about our dreams for what rural Kansas can be and Farm Bureau's role in making them a reality.

Growing Our Voice

The words we use to tell the Farm Bureau story are important to our members, clients and communities. This session will empower you with a compelling story for who we are and why membership matters.

Growing Our Accounts

Get to know the FBFS super power: SuperCheck! Learn more about this tool and tips and tricks to use it effectively in your agency.



3:30 p.m.
Break


3:45 p.m.
Workshops - Round 2





Growing Our Reach

Do you need new members, leaders and clients? This session will dig into generational differences so you can find the best strategies for connecting with volunteers and clients of all ages in your community.

Growing Our Customer Service

Being a service-oriented organization is a noble goal and entirely difficult to achieve and maintain. During this session, Rhett Laubach will provide insight into the principles used to get and stay in this sweet spot.



Growing Our Healthy Habits

It's hard to give your best when you don't have anything left in the tank to give. Join us to learn about ways to evaluate your wellbeing and strategies for taking care of yourself.





4:45 p.m.
Break


5:00 p.m.
Roundtable Conversations
Conversations that matter to agencies and associations.



6:30 p.m.
Offsite Group Dinners


Thursday, April 21
8:00 a.m.
KFB County Coordinators Meeting



8:00 a.m.
FBFS Sales Associates Meeting



10:15 a.m.
Break



10:30 a.m.
General Session
The value of Farm Bureau for families and communities when it matters most.



11:45 a.m.
Lunch Break


12:30 p.m.
Closing Session
Featuring a panel on community partnerships. 



2:00 p.m.
Adjourn & Departures


Questions? Contact Leigh Ann Maurath at maurathl@kfb.org or 785-953-0268.