KFB Collegiate Fellows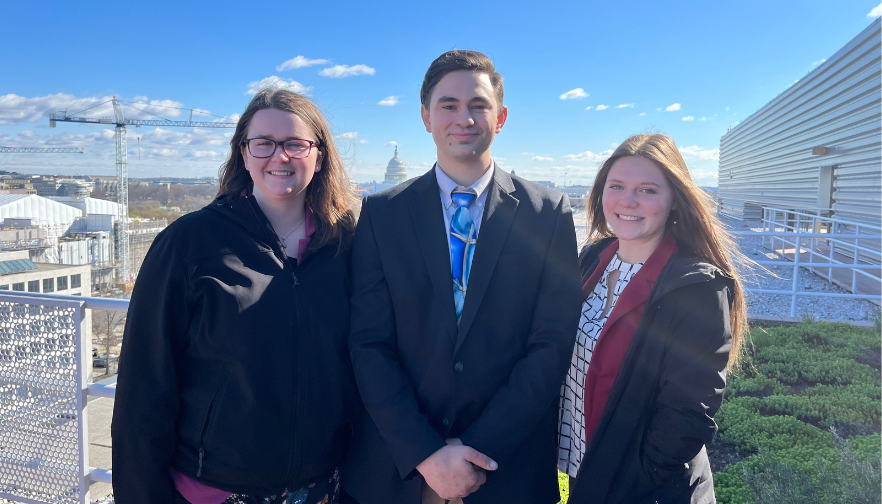 Applications for the 2023-2024 Collegiate Fellows are now being accepted!
The KFB Collegiate Fellows program offers emerging collegiate leaders an opportunity to engage in intentional leadership and personal development while learning first-hand about Farm Bureau policy. Fellows will dedicate a few hours each month during the school year to the program and in turn gain skills, insight and connections to prepare them for success in their education, future career and continued Farm Bureau involvement. 
Program Highlights
Mentor Pairing - you'll be matched with a mentor based on your interests and will be given opportunities to connect with them monthly via video conference
Washington DC Experience - learn about the Farm Bureau structure and policy development process throughout the year and then see how it's implemented with a trip to DC
Leadership & Personal Development - with a small cohort, the program can be customized to fit the leadership development and career interests of the participants
Cohort Project - build relationships with your peers as you work together to leave your mark on Farm Bureau
Costs
Kansas Farm Bureau will take care of the majority of fellows' expenses, such as hotel rooms, flights, registration costs and most meals. Fellows will be required to absorb the cost of getting themselves to some activities and must have access to a computer with microphone, camera and reliable internet capabilities.
Participation Requirements
Participants must be a Collegiate Farm Bureau member at the time of application and throughout the program.
Applicants must be a entering their sophomore, junior or senior year of college in the fall following their application.
Applicants must exhibit a high level of leadership potential through the application process.
Applicants must demonstrate support from their chapter advisor and county board president.
Participants are 

required to attend all meetings and complete all assignments through February 2024 to be eligible for the DC Experience.
Selection Information
All interested Collegiate Farm Bureau members are welcome to apply. Applicants will be required to provide the following information:
Basic Personal & Contact Information
Four Short Answer Responses:

Further Education & Career Interests
Your Agriculture & Farm Bureau Story (how you got involved, what you've done, why it's important to you)
Why do you want to participate in this opportunity & what qualities and experiences to you bring?
What are your expectations and learning goals for this experience?

Two References (name/email/phone/relationship)
Resume
Signed County President Support Document (president of the county where your 2022-2023 Collegiate Farm Bureau chapter is located)
Apply Online Here by April 1, 2023
Kansas Farm Bureau will select up to 8 students for the 2023-2024 KFB Collegiate Fellows program.
Questions?
Email collegiate@kfb.org or call 785-587-6124.