KFB Summer Summit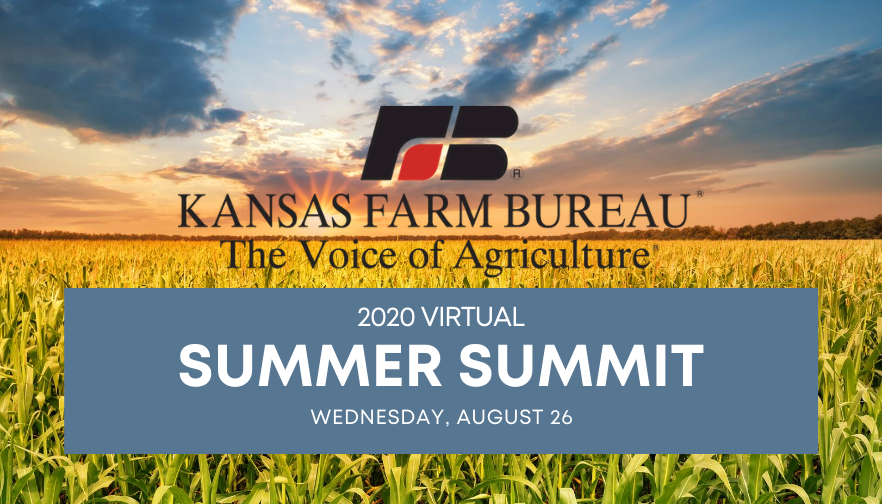 The 2020 KFB Summer Summit took place online on Wednesday, August 26. Find information about the event, speakers and resources referenced during the sessions below.
The Summer Summit videos are now available. Click here to view the recordings (requires sign-in and a current KFB membership)
Session
Speakers
Resources

The Impact of COVID on Agriculture

A panel of experts from different perspectives of the industry sharing how the pandemic disrupted the markets, how farmers, ranchers and agribusiness responded, where things stand today and insight into long-term impacts. 

Scott Bennett,  American Farm Bureau

Greg Reno, American AgCredit

Josh Roe,  Kansas Corn

Kerry Wefald,  Kansas Department of Agriculture 

 

Moderated by Mark Nelson, Kansas Farm Bureau

 

Ending Hunger in Kansas

A conversation about food insecurity in communities across Kansas, the urgency of pandemic-related needs and how county Farm Bureaus are partnering with Farm Bureau Financial Services and others to address the need locally.

Joanna Sebelien, Harvesters

Debi Kreutzman,  Kansas Food Bank

AshLee Lattner,  Kansas Farm Bureau

 

Farm Stress

Surviving in the agriculture world today can be an intense and demanding job. You are under pressure to meet the demands of running your operation and working to balance other areas of your life. Stress is natural and can be inevitable, but stress can take a toll on your health and effectiveness in many areas of your life. During this presentation you will be given information on where our stress comes from and how it can affect your mood, thinking and decision making, as well as easy-to-apply tips that have been proven to help manage the stress of farmers and ranchers for the last 12 years.

Will Stutterheim,  Fort Hays State University 

 

 

 

Diversifying for Local Demand

A panel of farmers and ranchers who have built or changed all or part of their business model to grow and sell food locally and online.

Eric Castle,  Castle Farm Fresh Meats

Jon Iverson,  Wooden Shoe Farm

Janet Phillips,  Show-Me Kansas Farms

 

Moderated by Nancy Brown, Kansas Farm Bureau

 

 

 

Policy & Politics in 2020

How is Farm Bureau continuing to influence policy and politics on members' behalf in a COVID world? We'll take a look at the major issues and current tools of FB advocacy and review the primary results and next steps for VOTE FBF.

Ryan Flickner,  Kansas Farm Bureau

Randy Dwyer, American Farm Bureau Federation

James Kelly, Office of U.S. Senator Jerry Moran

 

 
Questions?
Contact Edie Doane at 785-587-6102 or   doanee@kfb.org  for more information.