Kansas FFA Discussion Meet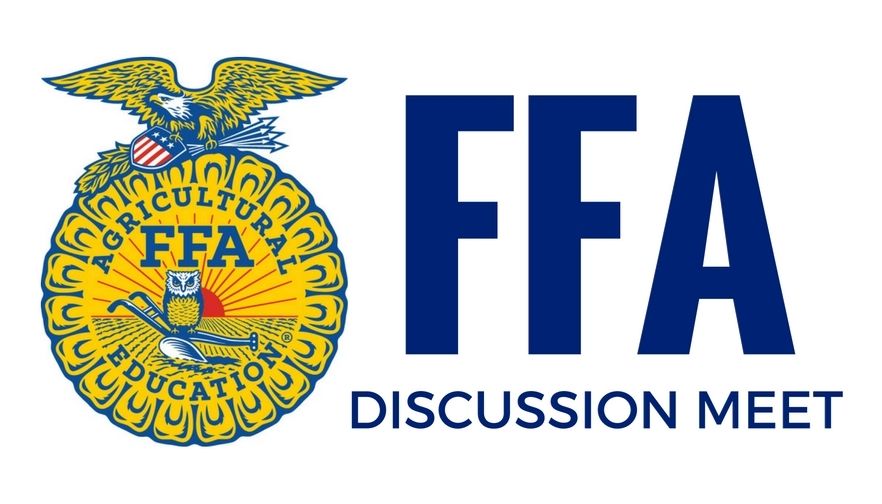 Kansas Farm Bureau is proud to partner with Kansas FFA on the Kansas FFA Discussion Meet competition
The FFA Discussion Meet is an event designed to stimulate logical thinking, develop skills in communication and problem solving and engage FFA members in solutions for important topics of today's agriculture industry. The competition will bring 4-6 FFA members to the table at a time to discuss an assigned topic for 15 minutes. Participants are scored and ranked on their ability to introduce the topic, analyze the problem, identify solutions, think critically, engage others effectively and summarize the discussion accurately. Topics will change each year, but will focus on issues in crops, livestock, natural resources, ag education and FFA.
Goals of the Event:
Develop leadership skills, such as critical thinking, problem solving, active listening and collaboration, in future leaders of the agriculture industry.
Recognize FFA members for researching important issues in agriculture and effectively discussing them with their peers.
Expose FFA members to aspects of Kansas Farm Bureau they might not be aware of, especially the collegiate and YF&R programs, which they could become part of after high school.
Encourage greater relationships between FFA chapters and county Farm Bureau associations.


Rules & Resources:
2023-2024 Competition 
Competition Resources
Recordings of past rounds or competition advice
2019 KAAE Presentation
Local/Mock Discussion Meet Resources
2023-2024 Competition Dates:
Northeast: December 13, 2023  (TBD)
Southwest: January 10, 2024 (Garden City)
Northwest: November 28, 2023 (Colby)

North Central: March 6, 2024 (Junction City)

East Central: December 8, 2023 (Burlington)
Southeast: March 2, 2024 (Neodesha)
South Central: March 20, 2024 (TBD)
State:

Round Robin Competition: State CDE's in Manhattan (April 29)
Final Four Announcement: Awards Ceremony at State CDE's (May 30)
Final Four Competition and Awards: State FFA Convention in Manhattan 
Contact:
For event questions, requests for additional resources or information about how to volunteer at a district or state competition contact yfr@kfb.org.