Benefits Category
Member Services
$1000 Reward
provided by
$1000 Reward
Up to $1,000 to anyone providing information leading to the arrest and felony conviction of the perpetrator of vandalism, theft or arson of a Farm Bureau member's property. Please see flyer on web site for details.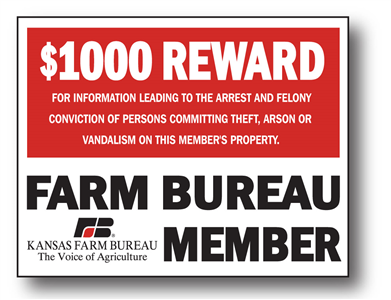 FBFS Agent Recruitment Rewards Program
provided by
FBFS Agent Recruitment Rewards Program
Members who refer a qualified Farm Bureau Financial Services (FBFS) Agent candidate can earn up to $2,500 in cash!
Click Here for more details.
Interested in becoming a FBFS Agent? Up to $25,000 signing bonus when you have at least three years of experience or history with an agriculture related company or operation. Click here to learn more.