KFB's Collegiate Farm Bureaus
---
Purpose
Collegiate Farm Bureau is a program of Kansas Farm Bureau which exists to support students engaged in agriculture, enhance members' education and develop future leaders for the organization and ag industry. Chapter activities center around Kansas Farm Bureau's mission based in advocacy, education and service and provide opportunities for members to meet new friends and mentors and build leadership skills.
---
Get Involved
There are opportunities to get involved with Collegiate Farm Bureau across the state! With programs at 19 two- and four-year schools around the state, you can't go far without the possibility of joining Collegiate Farm Bureau. The best way to get involved is to find you chapter's advisor or officer team and attend a meeting or activity. You may join the chapter at any point of the year. Each chapter works closely with their county and state office so if you need information about meeting times or upcoming activities, contact the state office at collegiate@kfb.org.
---
Collegiate Farm Bureau Chapters
If your college does not have a link above, contact collegiate@kfb.org for more information.
---
What's in it for me?
Build your network with other students interested in agriculture and rural communities
Connect to leaders and mentors in the agriculture industry
Develop a greater understanding of agriculture and related issues in Kansas and across the U.S.
Share your agriculture knowledge and stories with kids, consumers and elected officials
Experience statewide events and conferences featuring renowned speakers
Compete in contests that build essential skills and come with great prizes
Gain eligibility for the KFB Foundation Collegiate Farm Bureau Scholarships
Access KFB's member benefits and potential county-based benefits
Upon Graduation, KFB provides every Collegiate Farm Bureau member a free year of membership anywhere in Kansas. Click here to complete the form if you have just graduated.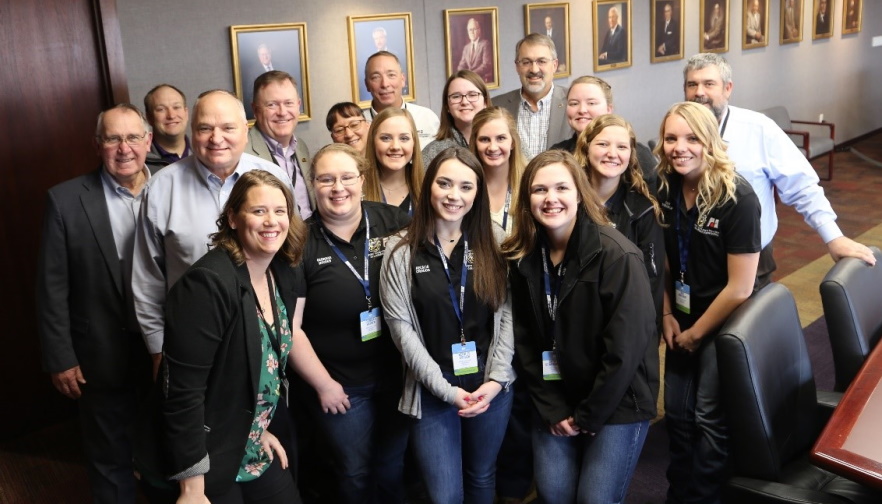 ---
Collegiate Competitions
Collegiate members are invited to participate in two types of competition at the Young Farmers & Ranchers Conference.
Ag Quiz Bowl - this competition is a team opportunity to demonstrate students' knowledge of a wide variety of agriculture topics.
Collegiate Discussion Meet - this competition is an individual event that builds a member's skills and confidence in discussing important issues in agriculture with their peers.
---
KFB Collegiate Fellows
The KFB Collegiate Fellows program offers emerging collegiate leaders an opportunity to engage in intentional leadership and personal development while learning first-hand about Farm Bureau policy. Fellows will dedicate a few hours each month during the school year to the program and in turn gain skills, insight and connections to prepare them for success in their education, future career and continued Farm Bureau involvement. Click here to learn more and apply by April 1.
---
KFB Foundation Collegiate Farm Bureau Scholarships
Each year the Kansas Farm Bureau Foundation for Agriculture sponsors up to 24 scholarships for current Collegiate Farm Bureau members who plan to continue their membership during the following school year at one of the 19 chapters across the state. The $500 scholarships are awarded to individuals who are actively involved in their collegiate chapter. To be considered, members must submit the online application by March 1. Chosen recipients will be notified by June 1 and must provide proof of enrollment for the following fall semester and join their collegiate chapter in the coming school year before the scholarship check is sent in the fall.
Click here to go to the KFB Foundation for Agriculture page to apply.
---
KFB Collegiate Chapter of Excellence Awards
Kansas Farm Bureau has launched a new recognition program for Collegiate Farm Bureau Chapters. The Collegiate Chapter of Excellence Awards are designed to annually reward chapters which demonstrate excellence within the three pillars of Kansas Farm Bureau: Advocacy, Education and Service. Chapters can receive $75 for an Active Chapter Award and an additional $100 if selected as Chapter of the Year. Click here to learn more and submit your chapter's application.
---
Collegiate Leadership Resources
---
Interested in starting a chapter in your county or college?
See our Start Up Guide for more information.
For more information contact Janae McKinney, YF&R and Collegiate Programs Coordinator, at 785.587.6124 or email her at collegiate@kfb.org.